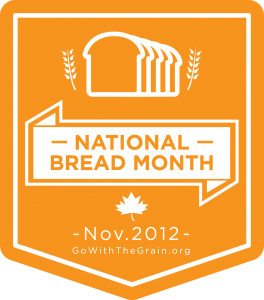 November is National Bread Month!
National Bread Month is a great way to remember to put whole grains in your diet.
We try to eat as many whole grains as possible… from bread, to pasta, to cereals. How do you incorporate whole grains into your lifestyle?
Here are a few things to remember:
Bread and grain foods provide many essential nutrients our bodies need to stay healthy and help fight diseases such as heart disease, diabetes, some cancers and birth defects.
Whole grains are a good source of fiber and complex carbohydrates – and are naturally low in fat.
 Enriched grains are also a good source of complex carbohydrates and are one of the major sources for iron and folic acid in our diets.
A big key to maximizing your health and energy is taking a look at your diet – including how you "fill your plate."
The Dietary Guidelines for Americans recommend eating six one ounce servings of grain foods each day.
 Grain-based foods like bread, buns, bagels, tortillas and crackers are not only healthy, they're convenient and affordable.
About White Bread/Enriched Grains:
White bread – whether it be sliced or as rolls and buns – is enriched, meaning that B vitamins including thiamin, and riboflavin have been added back in approximately double the amount of whole grains and niacin has been added back in its original amount.
Folic acid is fortified to over twice the amount found in whole grains.
Enriched grains are the primary source of folic acid in Americans' diets and, according to the CDC , have been credited with a 36 percent reduction in birth defects since the FDA mandated fortification of enriched grains in 1998.
Enriched grains are also a major source of iron in the diets of most Americans and are a good source of complex carbohydrates.
About Whole Grains:
Whole grains are a good source of complex carbohydrates, numerous vitamins and minerals, and are naturally low in fat.
Whole grains are a good source of fiber and other important nutrients, such as selenium, potassium and magnesium.
Whole grains may lower risk of heart disease, some cancers and diabetes as well as other disorders, such as hemorrhoids, irritable bowel syndrome and diverticular disease.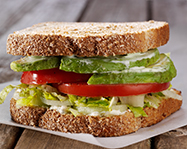 This year marks the 250th anniversary of the sandwich! There are many reasons to love sandwiches:
Sandwiches are one of the easiest, most versatile and convenient ways to make a healthy meal for individuals or families.
Bread is the most important ingredient in making a healthy and delicious sandwich; it is the foundation of a great meal any time of day.
The complex carbohydrates in bread and other grain-based foods provide lasting energy the human body needs on a daily basis.
My children LOVE their sandwichs…favorites include Ham, Peanut Butter and Jelly, and Grilled Cheese. Although Peanut Butter and Jelly is the GO TO favorite hands down for lunches!
Do you send your kids to school with sandwiches? What's a go-to sandwich for you to include in their lunch bags?
I recently discovered Celebrity Chef Bryan Voltaggio who has created some delicious recipe creations. They range from traditional to interesting. Definitely worth a look see! You can check them out here: http://bit.ly/t9woak.
Chef Bryan is definatley a sandwhich innovator to learn more about his history please visit this link: http://bit.ly/REO3uL
For more information on National Bread Month and Whole grains PLEASE visit http://gowiththegrain.org/
"I wrote this review while participating in a blog tour for Mom Central Consulting on behalf of the Grain Foods Foundation. I received a promotional item to thank me for taking the time to participate."
Share and Enjoy