I bought my first Farmers Almanac the other day and I can't believe I didn't buy it sooner!
I always thought the Farmers Almanac was all about the weather.  Boy was I surprised when I found tons of fantastic information!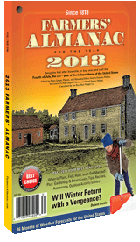 Yes, it does have weather information,  BUT, on page 8 I found out how to get rid of weeds with out pulling or chemicals and it's easy!  You pour boiling water on them or use a mixture of dish washing liquid (5 tablespoons) and water (4 cups) in a spray bottle!  I also learned how to make a "Homemade Jar Opener", "No-Mess Baking", ways to cut energy costs, how to save on gas, even a section on comfort foods (my favorite).
I plan on buying one every year!  They are really a wealth of information!
Share and Enjoy