New Warming Bear Provides Natural Kid-Friendly Pain Relief
Bed Buddy Bear® Features ThermaTherapy® to Provide Comfort and Targeted Heat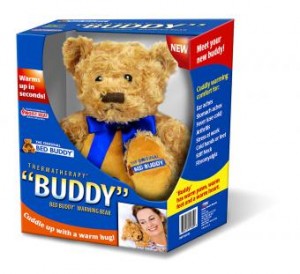 Far more than a plush toy, Buddy is the latest in a series of breakthrough ThermaTherapy® products in the Bed Buddy line that provide warmth and comfort to soothe aches and pains.
Made with 100% natural materials, Buddy Bear's warm feet, tummy and paws provide deep penetrating moist heat ideal for reducing pain associated with arthritis, fibromyalgia, back problems, ear aches, tooth aches and stiff necks. Living up to his name, Buddy can be counted on to do what any good friend does – provide comfort on a cold night or eliminate stress after a long day.  For penetrating heat that will last up to an hour, place Buddy in the microwave. He can also be hibernated in the freezer to create a cold pack for fever relief and to relax restless sleepers.
Buddy Bear Review:
This is another great product that we were sent from Carex. I cannot express my adoration for their Bed Buddy line enough! We were sent the BED BUDDY warming bear to review…and boy is he cute and cuddly! When I opened the box my children instantly fell in love with this cute little bear…it took much coaxing for me to explain that he was not an ordinary stuffed animal. I had to "warm" him up and show them how he was used for them to understand…what a learning experience for all!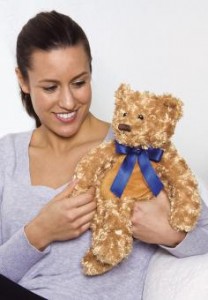 This is a great product…so easy to use and most surprisingly it can be used hot or cold! Pop the bear in the microwave for soothing heat or place in the freezer for cooling relief!
During this portion of our lives we have been blessed with our fair share of ear infections in our children. So of course during the course of this review one of our little ones was having ear pain. Usually the remedy for ear pain is a warm wet washrag that usually has to be rewet/warmed every 10 minutes to soothe the ache. This product did wonders for my sanity … I used the bear in place of the wet washrag for ear pain. My child was more comfortable resting their ear on the bear than on a wet rag and the heat lasted so long that my little one fell asleep and did not complain the rest of the evening. Yes this bear is my new friend!
Overall, this is another WONDERFUL Bed Buddy product that I cannot live without. What did I ever do before the Bed Buddy Bear…oh yeah warm wet wash rags (YUCK!)
You can find this product and many more at carex.com. I would definitely consider perusing the site the company has so much to offer in moist heat and home healthcare products.
Bed Buddy Product Link  http://www.carex.com/products/Bed_Buddy/93
Bed Buddy Bear Product Link: http://www.carex.com/products/detail/635
Faith and Family Reviews received the following product in exchange for writing a review. While we consider it a privilege to receive free products to review, our reviews are our honest opinion and thoughts of the product.
Share and Enjoy