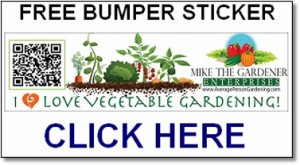 Spring is Coming!
I found this great deal for vegetable gardening and it all starts with a bumper sticker.  A bumper sticker?  Yes.  Use this link to the left and get your free bumper sticker!  When you put your information in you'll receive an email to confirm your email address.  THEN, you'll get a promo code for 53% off "Seeds of the Month Club".
Some background – Mike the Gardner Enterprises is located in NJ.  Mike is a 3rd generation home vegetable gardner and author.  Mike has been featured in many publications around the world with articles and tips, including ABC & NBC.
Mike also has a podcast, blog and can be found on Facebook, Twitter, You Tube, LinkedIN, Pinterest, & Google +.
"Seeds of the Month Club" –  According to their website.  "All seeds are non-gmo, open pollinated heirloom varieties that have been tested for a germination rate of 90% and higher. "
"You receive 8 packs of seeds your first month and 4 packages each month thereafter.  With a 30 day money back guarantee."
With the 53% off it cost $15.06 for the year!   I signed up, so we'll see what it's like.  Granted, I don't know what kind of seeds I'll receive monthly.  It's still a great deal!
Happy Growing!
Share and Enjoy