"What if there was a snack that could satisfy even the most demanding sweet tooth that had zero grams of guilt?  Introducing Halo, the delicious between meals treat that's designed to do your body good.  With natural whole food ingredients and heavenly taste, these bars have such big flavors they take on a personality all their own.  So, what's your Halo?"
Pro Bar offeres 4 different flavors of Halo Bars, S'Mores, Nutty Marshmallow, Rocky Road, and Honey Graham.
According to Pro Bar this is what Halo offers.
*Good source of Omega 3 &

* Certified Organic by QAI

*  Vegan & Dairy Free

*  Only 150 Calories per Bar

*  Low in Sugar

*  All Natural
ROCKY ROAD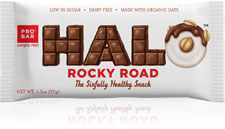 Charming, sensible and refined are the words most used when describing a Rocky Road. Like an old soul they remain grounded through life and usually find themselves sharing their wisdom with the other flavors. Rich with depth they tend to gravitate to the finer things in life. Intelligent and adaptable to every situation and person. Rocky Road's never lack for friends or admires."
S'MORES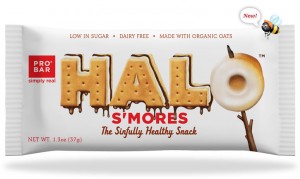 "Outdoor enthusiasts at their core, S'mores are most content when they are actively exploring nature with friends and family. S'mores can really take the heat and work extremely well under pressure. Despite their hard exterior, they are almost always soft and gooey on the inside making them great life long companions to most any flavor."
HONEY GRAHAM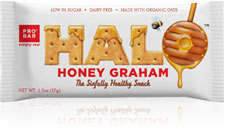 "With the perfect combination of innocents and wholesome sweetness, Honey Graham's are known for their friendly dispositions and random acts of kindness. If you need advice or a listening ear, Honey Graham's are the ones to ask. They are masters of communication and tend to be not only responsible but also extremely resourceful by nature. They like to leave their mark on everyone they meet and this is easy for Honey Graham's to accomplish due to their sticky personalities."
NUTTY MARSHMALLOW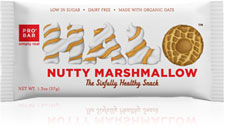 "Exocentric and lively, Nutty Marshmallow's have the tendency to be impulsive risk takers often making them the life of the party. This wild child rebel has a clever wit is not afraid to speak their mind. With boundless energy, Nutty Marshmallow's usually have a never-ending hunger for adventure and new experiences. More so than another flavor, Nutty Marshmallow's are young at heart and have an unyielding passion for life."
They are available online at http://theprobar.com/ .  Once on their site you can also order by phone or find a store near you.
My Review:
Food does not last long in my house.  That goes double for these Halo Bars!  My whole family loves them.  They are a great & healthly on the go snack.  Our family favorite was S'Mores!
Faith and Family Reviews received the following product in exchange for writing a review. While we consider it a privilege to receive free products to review, our reviews are our honest opinion and thoughts of the product.
Share and Enjoy