Meal time is always crazy at my house. With a growing 5 year old boy and an almost 2 year old girl (going on 15), preparing meals is always hectic.  I try my best to have them eat what we eat, but sometimes it's hard. Trying to cut food up into small enough pieces for their liking while they are yelling "I'm hungry, "Is it ready yet", etc. can make any mom struggle to have a smooth meal time.  Anything that makes this part easier, I'm signing up for!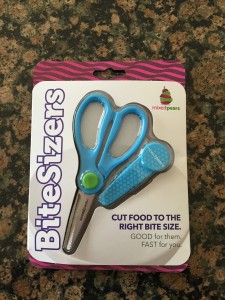 Thank goodness for BiteSizers! Upon first opening they look like everyday scissors. I thought to myself, they'll probably work the same as kitchen scissors.  Guess what? They work a whole lot better! Way better than using a fork a knife. Who would have thought?! Simply take whatever you are eating, use BiteSizers to cut pieces to your liking, and that's it!  I was honestly amazed at how easily it cut through this quesadilla.
I then went on to cut up some cantaloupe. Usually I use a fork and knife to cut fruit up.  Using BiteSizers was a whole lot easier. I went from cutting a quesadilla to cantaloupe, and then I cut up a PBJ just for fun.  They work on any food that I would ever feed my kids.  I love that it has a Snap-On cap to keep the blades good and for easy travel. I can throw them in my diaper bag easily.  There's even a handy built-in sizer guide so you can cut food to the size recommended by experts as best for children.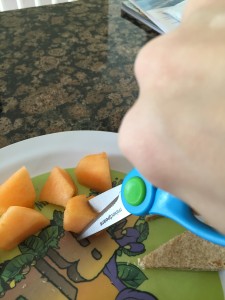 Since I started using BiteSizers both of my kids have tried more foods than ever. It's just so easy to cut a little bite off of whatever I'm eating and share with my kids. BiteSizers are available exclusively at
www.mixedpears.com and www.amazon.com
I would highly recommend them to anyone with young children.
"Like" on Facebook https://www.facebook.com/mixedpears
"Follow" on Twitter www.twitter.com/mixedpears
"Follow" on Pinterest http://www.pinterest.com/mixedpears/
"Follow" on Instagram http://instagram.com/mixedpears
Share and Enjoy