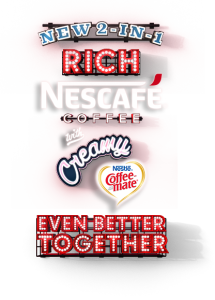 I love my coffee, it's my morning go to beverage.  Waking up early while everyone is still sleeping and having a cup of coffee in the morning is my time.  I'm typically a milk & sugar type of gal.  However, NESCAFE with Coffee-Mate introduced me to 3 creamy and great tasting flavors French Vanilla, Original, and Hazelnut.  Well, my mornings have been more inspiring and tasty with these new NESCAFE with Coffee-Mate flavors.  Just the aroma that floats around my kitchen when I stir in the French Vanilla, Hazelnut, or even original is uplifting.  They have made my mornings even more enjoyable.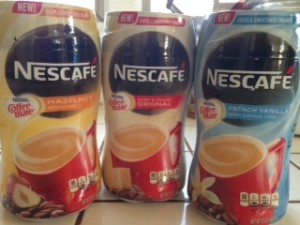 No need for a coffee maker or single cup brewer with NESCAFE with Coffee-Mate.  Just put 2 tablespoons of NESCAFE with Coffee-Mate in your cup and add 6 oz. of hot water, stir and that's it!  Coffee with creamer – mmmmm….. so good!
Go and treat yourself today!
Who wants a coupon!?  Click here!
Don't forget to like our friends at NESCAFE and Coffee-Mate on Facebook or follow NESCAFE and Coffee-Mate on Twitter.
#NescafeCoffeemate
"I received this product for free from Smiley360 in exchange for my honest review. You can join Smiley360 here!"
Share and Enjoy