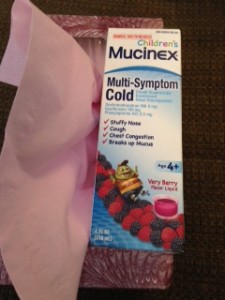 'tis the season. Oh the joys of noses running and hacking coughs. As much as I appreciated the Smiley 360 Blogger offer to do a Children's Mucinex review, I didn't want to have to try it. I'm sure all you Mom's understand. Well, low and behold my little darling started showing signs of the stuffy nose and cough. Good thing we had our Children's Mucinex in the closet. The multi-symptom cold with expectorant cough suppressant and nasal decongestant was just the thing we needed. It covers the stuffy nose, cough, chest congestion and breaks up mucus in a favorable flavor of Very Berry. After I read all the warnings, uses and directions the first thing I noticed when I opened the box was the dosing cup. It's a short and wider than other dosing cups included in other brands. Which was much easier for my daughter to drink, it fit her mouth more like a cup she normally drinks out of. She's not fond of tastes of medicine (but who really is, right?), she said it was good. The Children's Mucinex helped her cough and stuffy nose, especially throughout the night, which makes this Momma happy.
Children's Mucinex is alcohol free and there are 7 kinds of liquid forms to choose from depending on the ailment. In addition, there are 3 "mini melts". From what I read about Mini Melts, you open the packet and pour the contents on your child's tongue and they swallow it.
Complete drug facts, uses, warnings, dosing chart, and active ingredients please click here.
If you are unsure about using Children's Mucinex® Multi-Symptom Cold liquid for
your child, talk to your pediatrician. With Children's Mucinex and all medication, please read all the instructions before you dispense it to your child! Please call the toll free number 1-866-MUCINEX (1-866-682-4639) if you have any product related questions.
Please like Mucinex on Facebook and Twitter .  Click here for a $2.00 coupon too!
#ChildrensMucinex
"I received this product for free from Smiley360 in exchange for my honest review. You can join Smiley360 here!"
Faith and Family Reviews received the following product and promotional products from Smiley 360 in exchange for writing a review. While we consider it a privilege to receive free products to review, our reviews are our honest opinion and thoughts of the product.
Share and Enjoy