I received this product for free from the sponsor of the Moms Meet program, May Media Group LLC, who received it directly from the manufacturer. As a Moms Meet blogger, I agreed to use this product and post my opinion on my blog. My opinions do not necessarily reflect the opinions of May Media Group LLC or the manufacturer of the product.

What's your best Chiquita Banana Recipe?  It could be worth up to $4000.00 when you enter your recipe at the Chiquita Cooking Lab!
Click here to start your recipe!  Once at the website "scratch" off the yellow section to the right. After the section is clear it will give you 3 (three) ingredients.  The ones I got were Apple, Banana & Oats. Then you start entering your recipe. You will be asked for your name, email address, your recipe name, ingredients, how to prepare and cook time.  After you submit your recipe, you will receive an email thanking you for your submission and a reminder to look for the next week ingredients.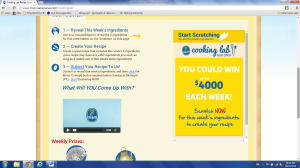 One winner will be chosen each week and could win a $4000.00 cash prize, and will have their recipe promoted on Chiquita's digital and social channels. Also, 4 (four) random winners will be chosen each week and will receive a Chiquita gift bag.
So, what are you waiting for? Show off your best recipe! It could pay off!
#MMlovesChiquita  #ChiquitaCookingLab
Don't forget to like Chiquita Banana on Facebook too!
Share and Enjoy