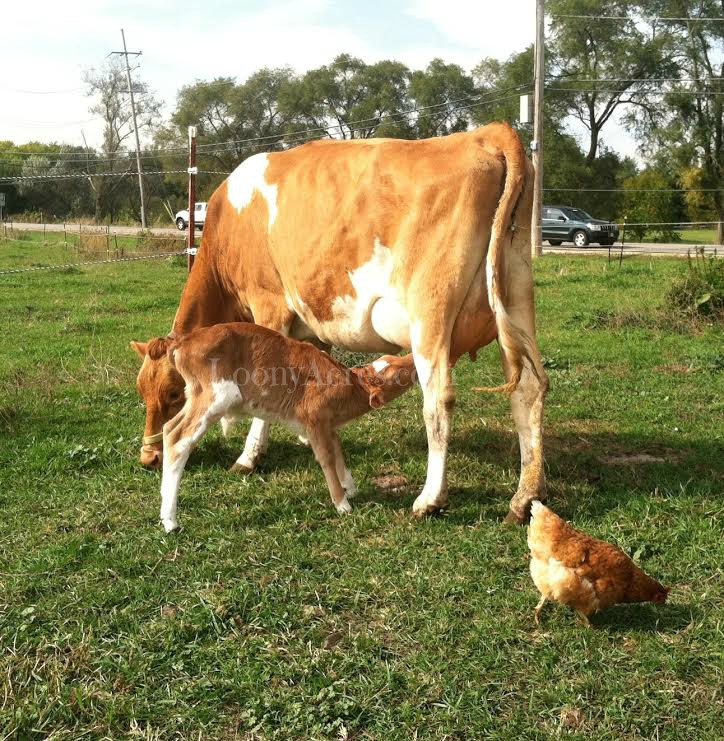 Missing Calf – Crazy Calf and Cow Escapades!
Our new calf went missing for 24 hours over the weekend. Thankfully, we found him and brought him back safe and sound. The "crew" found him at our neighbors 3-4 houses down. Not a mark on him. But what a scare! Now he and his mama are locked in their stall until we can get the electric fencing fixed, powerful enough and calf proof.
Then our older cow, Miss Moo, went into heat about a week early. We had someone tell us that the smell of Comet (our heifer that gave birth) could have triggered her heat. The farm who is willing to take her to their farm for a date with their bull could not come and get her due to their trailer being full of hay. So in two weeks Miss Moo will get her date with a bull! Anyhoo, this heat made Moo crazier than normal. She has been charging through fencing, chasing cars – our pasture runs along a busy rural road and she was running with the cars back and forth! She was trying to mate anything and everything not tied down or so it seemed. We had to separate her from Comet so Comet and the calf wouldn't get hurt.
We really think Miss Moo has calf fever! She really wants a calf it seems. Here's to hoping her date with the bull goes very well in a couple of weeks! Had an online friend call both these situations "cowrazy" funny or what?!
Share and Enjoy