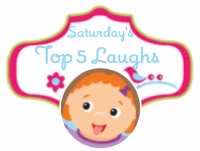 It is hard to believe we are inching closer and closer to a year for participating in the Saturday Top Five Laughs posts. But here we are joining The Mommyhood Chronicles on week #36 (for us)! Most of them will be compliments of Jr., our four year old.
5. "That smells yummy", Jr. exclaimed as his 11-year-old brother made him some hot chocolate. A boy after my own heart!
4. Jr. went potty one day this week and announced, "I made a cow patty!"
3. You all know I get up at 2am most mornings to do two paper routes. On one particular morning, the children kept coming in and out of our room (hubby must have been otherwise occupied or else that usually does not occur) and I was getting a little exasperated. So the next time Jr. came in I gave him a look. My older girls call it my "dragon" look and Jr. simply looked at me and said, "Mommy, you look creepy."
2. It is fly season. Living on a farm we are overrun with flies. After the first year here, we finally succumbed to those ugly sticky fly paper that hang from the ceiling. We have never hung one in our bedroom before but had to this week due to the amount of flies camping out in there. Hubby hung it by the light fixture, which happens to be over our six year old and four year old's bed. Our six year old tells us, "I have nightmares about that fly trap falling on me." Guess that would be freaky, if it happened, but it is held by a tack so it is pretty secure. Hubby knocked his head on it today, which was a close call. Good thing his hair is cut in pretty much a buzz cut! I just thought it was kind of funny that he said he had nightmares about it. I have not heard him waking up, just so you know!
1. Today I hear this high pitched screaming, then gobble-gobbles. I listen for a while and realize one or two of the younger children were doing the screaming in order to get the turkeys to gobble! Wish I could have recorded it, but it did not last very long, nor did I think of it until now. Turkeys are rather interesting to observe and listen to.

Share and Enjoy