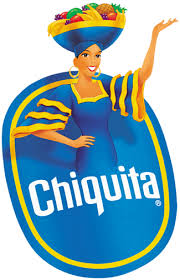 What comes to mind when you think of the word Chiquita??? Bananas of course! But I am here to tell you that the Chiquita brand is MUC HMORE than bananas! It is a whole variety of snacks and good things with fruits!
Chiquita sent us a bunch of products to try! They were great! So great that they got eaten REALLY fast in our house! We took the snack packs to a local firework show and shared with friends and family whose children thought they were equally yummy and fantastic!
The best part of the products we received is that the larger (multi-size) packs can be resealed and the smaller individual packs are hand sized and easily opened and eaten!
Here is what we reviewed:
Family Pack Green Apple Bites and Red Apple Bites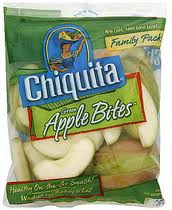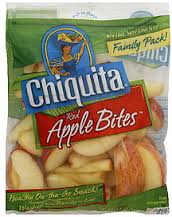 This family pack was great because it allowed us to open and reseal the bag! This is a great option if you want to buy in bulk and reseal for later. For the purpose of this review we ate a few apples from the family pack and resealed and ate the rest later. Normally our family would devour the entire family pack as we LOVE apples. However, the resealing worked great! the children were able to open and reseal with ease as was mom! The fruit inside stayed fresh and moist with the reseal option so this was good…also no browning!
The next product we reviewed was: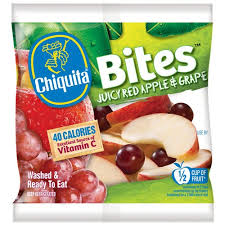 These little bags are AWESOME!!! Although we reviewed these in summer and found they are GREAT for picnics…I must say I will be buying them for school lunches this year! What a wonderful alternative to chips in the lunchbox! The packaging is easy to open and provides 1/2 cup of fruit for little tummies!
Finally…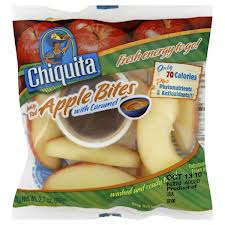 These were by far the favorite…of course who does not like a dose of caramel with their apples! LOL! We loved these…they went fast at our firework picnic! Although … being at a picnic …at night… the caramel apples was probably not the best option because the caramel got everywhere and stuck to little hands because it was dark out and all we had for light were a few glow sticks. BUT…in normal picnic pr lunch situations … THESE ARE GREAT!!! The caramel cup is small and individual and the apples are yummy. We have tried competitor brand apples and caramel dip where the dip package was attached to the apple container and that always made a mess because when you pulled the tab to open the caramel it either flung the apples out of the package or the caramel dripped. THESE ARE SEPARATE and AWESOME… I like these 10 times better than the ones I used to buy since the caramel container is a separate "sauce" that comes inside the apple bites… it lets the caramel REMAIN separate from the apples and it opens with ease and no dripping (unless you tipped it over LOL)
OVERALL… I was very please to review these products … they will most certainly be purchased for the upcoming school year and packed into lunches! Way to go Chiquita!!!!
Share and Enjoy