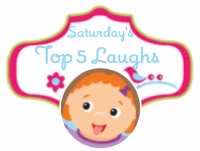 This week has been challenging on the technological front, as you may have noticed my blog was missing for a few days. Thanks to Hostgator we are back up running. So I decided to back post my Saturday Top Five Laughs since I kept a running list and have almost two weeks worth of material! Again, we join Mel over at The Mommyhood Chronicles for week #28 (for us) in our Saturday Top Five Laughs of the week.
5. The temperature was 70+ degrees and the children were playing in their 24″ tall kiddie pool. Our ten year old came to me saying, "Mommy, I think my feet are frost bitten!" Me, "No they are not." Then he goes, "Then why are my toes tingling!" It was cold water from the hose….but it was a bit humorous initially.
4. One of our sons came to us one morning saying, "I fell asleep on the floor of my room and woke up on a bed of pillows I had made. I wondered how I got there but fell back to sleep. Then I woke up in the bathroom washing my hands in cold water!" Can you say sleep walker?
3. We finally got our kittens neutered and spayed – thanks to McHenry county for reduced neutering and spayed programs and to our friend for referring us! Anyhoo, Jr. was sad and didn't understand going to the doctor (most of our vets come to the farm) so he said, "But me like Freckles." Awww….he didn't think Freckles was coming back so we had to explain to him that we would pick the kittens up at supper time. It seemed to help Jr. a bit anyways.
2. 14 year old to hubby, " You have old man legs. My legs are ripe and full of life." That cracked us both up!

1. The 14 year old also said that her butt glows in the sunlight. Everyone else's is shriveled and dead. I have no idea where she came up with this stuff!
Until next time…
Feel free to share your funnies of the week with us!

Share and Enjoy