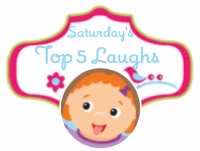 This week was a "barrel" of laughs from our three year old and our six year old, yet again! So without further adieu, we are joining Mel over at The Mommyhood Chronicles for week #27 (for us) in our Saturday Top Five Laughs of the week.
5. Three year old: " Me take a bath? Me smell like soap!" He wanted to smell like soap. Gotta get that boy out of the "me" habit.
4. Six year old: "Mommy was I born with big eyes?"
Me: "Yes, you were born with big eyes."
Six year old: "Yay! I was born with big eyes!"
3. Three year old: " I want to walk to nanny's house." I laughed, my mom laughed and hubby laughed and all said that's a loooonnnnngg way to walk…..1600 miles or thereabouts!
2. Three year old: "Mommy put in a pony tail!" His bangs were too long, but hubby cut them after this photo was taken.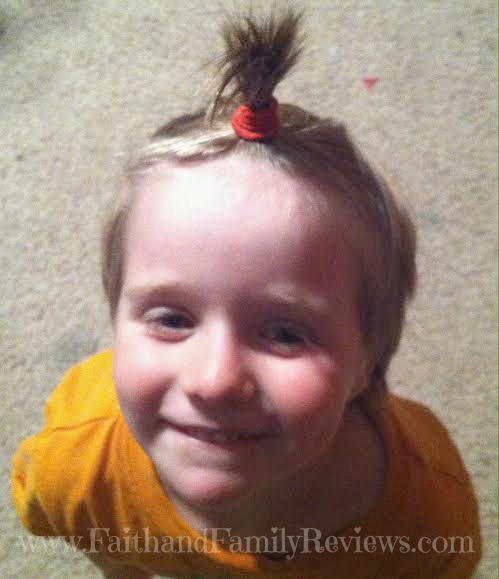 1. And Saturday top laughs wouldn't be the same without a pet story. We are pet sitting and there are several different animals, but the funny is the outside dogs are fed in the mud room and allowed in the house, unless they are dirty. Well, last night we did not think to close the door from the mud room to the main area of the house but neither did we know how hard it was going to be to get them out when it was time to leave! Both dogs hid in the living room at first and just barked at us, then we coaxed the male out with dog treats but the female hid in the bedroom and wouldn't come out. Treats were not a motivator. Finally, B just took her by her collar and walked her out. Novel idea, use the collar!
How was your week? Did you remember to laugh and enjoy your children's antics? Or pets for that matter? Do tell!

Share and Enjoy