"I received this product for free from Smiley360 in exchange for my honest review. You can join Smiley360 here!"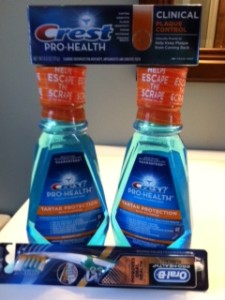 Smile! Crest has some fabulous products out there. I was lucky to be able to test out Crest Pro-Health Tartar Protection with Fluoride Rise and Crest Pro-Health Clinical Plaque Control Toothpaste. 
I'm usually on the hunt for the best deal with coupons and sometimes buying substandard toothpastes and rinses. After trying these Crest products my attitude has changed, I will no longer be buying cheaper toothpaste. I really enjoyed the flavor of each of these and how my teeth and mouth felt so much cleaner!
Crest Pro-Health Toothpaste says that it provides benefits to control cavities, gingivitis, plaque, sensitivity, tartar, whitening, and freshen your breath. That's sounds like a lot of great benefits. Crest also reminds us to brush regularly to achieve the full effectiveness. 
Crest Pro-Health Rinse claims many of the similar outcomes of the toothpaste with regular usage.  The bottle also states that protects surface stains and rebuilds enamel.  That sounds great for a coffee drink like myself. 
I've been using both products regularly for about a week and my teeth and mouth have felt much better and fresher! I will continue to be using Crest products! 
Make sure to head over to Crest's Facebook Page for upcoming offers and promotions. To learn more about Crest Products click here to be taken to their website!  #TartarRinse
Happy Brushing!
Share and Enjoy