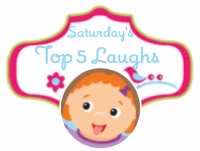 It's time for Saturday top Five Laughs with Mel over at The Mommyhood Chronicles for week #21 (for us) in our Saturday Top Five Laughs of the week. Actually it's six this week.
6. My husband doesn't drink hot drinks but he knows how to make me a tea. This week with it being so cold we've been back to drinking hot chocolate so he made some. The one he made for me wasn't bad but the one he mad for Jr. had Jr. saying, "Daddy, what did you put in my hot chocolate?" I asked hubby if he put sugar in it. He goes, "You put sugar in hot chocolate?" We use cocoa and sugar and make our own mix but this week there was no mix and he didn't know to put sugar in with the cocoa! I told Jr. to tell hubby he makes yucky hot chocolate!

5. My husband was bending over getting a bag of plastic clips for fencing and he heard our youngest daughter laughing. When he turned to see what she was laughing at she was aiming a BB gun at his butt…and no it was not loaded. Can't tell she is smack dab in the middle of four boys?!
4. My husband had put the little boys to bed at 8-ish. Jr. wakes up a couple hours later to announce to hubby, "Your arm pits smell like poo!"
3. Someone share this on Moms.com and it cracked me up:
2. My children came to me and asked "What do normalers talk about?" I was like, "What do you mean normalers?" They said, "Mom! Normal people!?" As if I would know what they were talking about. I said, "What makes you think you are not normal?" They go, "Mom, we are abnormal. Why would we want to be normal?" I said, "You'd be surprised to know normal people talk about the things we talk about, gas, politics, religion…." They didn't believe me and said they wanted to go some place like a museum or whatever to watch normal people. Me? I think it's just and excuse for a day out! lol!
1. Jr. has discovered he can pee outside. Need I say more? Sigh.

Share and Enjoy