Faith and Family Reviews received the following product in exchange for writing and participating in The Waiting review. We are being compensated by Tyndale Publishing and The Motherhood. While we consider it a privilege to receive free products to review and compensation, our reviews are our honest opinion and thoughts of the product.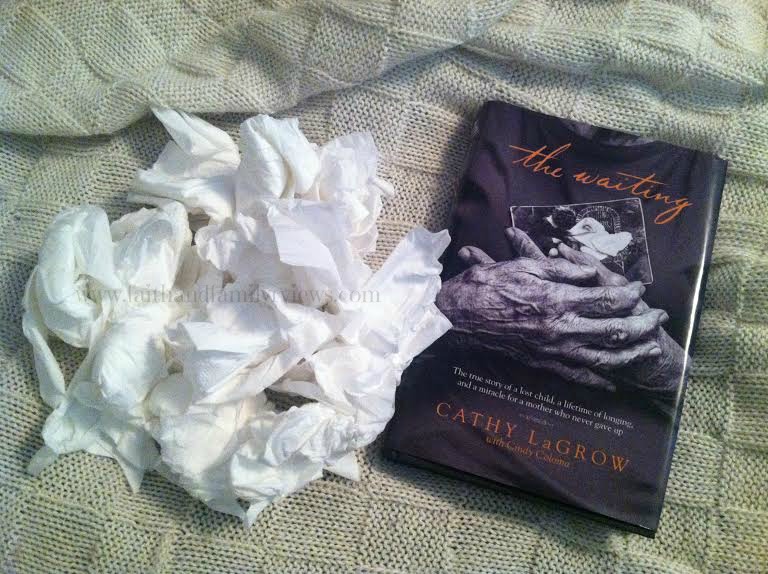 All I wanted to do this past Mother's Day was relax and read The Waiting by Cathy LaGrow. My husband let me sleep in and when I woke up I read my book. What I didn't expect to give myself was a huge headache, a pile of tissues, and red, puffy eyes!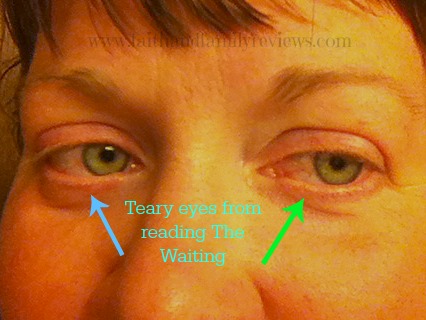 Lighting in our bathroom is awful! Should have taken it somewhere else!
I don't think I have ever cried as much while reading a book as I did during The Waiting. That's why I took pictures of my pile of tissues and red, puffy eyes.
On to the review….
The Waiting Review
The Waiting is a true story of a woman's wait to see her first born daughter again after giving her up for adoption.
I loved this book. I couldn't put it down until I was done. I shooed my children away , mostly because I didn't want them sitting there on the bed with me watching and staring at me while I cried buckets of tears!
As emotional as the book made me, I cannot imagine living it as Minka did. I cannot imagine giving up my child and waiting 77 years to see her again.
There are so many facets of the story that show God's faithfulness to a young mother and her years of praying and waiting. The fact that all the letters Minka wrote to the director of the "home" (like a pregnancy crisis center where young girls were sent to hide their pregnancy) were put into Betty Jane/Ruth's adoption file, which would eventually be proof to Betty Jane/Ruth that her birth mother loved her fiercely for 77 years and never, ever forgot about her.
I loved the reunion and family bond Minka and Ruth's families experienced upon meeting. I loved the honor and love bestowed upon Minka and how active and involved she continues to be even at age 102 (or possibly 103 at the time of this review). There's so much more I could say but I think you should just read the book…how often do I say that!?
I highly recommend this very inspirational book. You won't regret it. My daughter B read it the same day I did!
The Waiting in the Press
The NBC TODAY Show interviewed the author of The Waiting, Cathy LaGrow, who is Minka's granddaughter. The interview aired on Friday, May 9, click the NBC link to watch it.
Tyndale is Giving Away FIVE Copies of The Waiting!
Enter to win one of five copies of The Waiting below!

Share and Enjoy