Calling all Rainbow loom lovers! There is a great new product out on the market to use to organize and display your creations! The Original LOOM BOOM!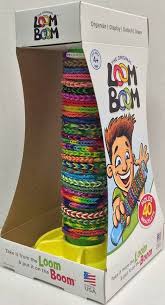 This is a great product to create, collect, and store your rainbow loom creations! You  can stack your bracelets on one the handle Loom Boom and then showcase them , collect them, or bring them…anywhere you want!
The Original Loom Boom Review

We were elated to be able to review the loom boom! Our house is overrun with bracelets and rubber bands from the rainbow loom craze! We have 3 rainbow looms in our house so you can imagine our stock of bracelets!
We LOVE the fact that the Loom Boom is portable and big enough to store the bracelets and he collection tray at the bottom is great for storing unused rubber bands, loom rings or projects in the making!
The other fact I liked as a mom was that it was invented by a child! How great to be able to say to my children that a fellow rainbow loom enthusiast invented this product!
We have been looking for something similar and my daughter had even dabbled in making a holder out of duct tape but once we got a hold of this product we were sold! This is such a great invention!
Loom Boom can be found at your local Learning Express or Michael's stores. I have also seen it at Amazon and Toysrus.com!
To find out more about the Loom Boom please visit http://theloomboom.com/
Share and Enjoy