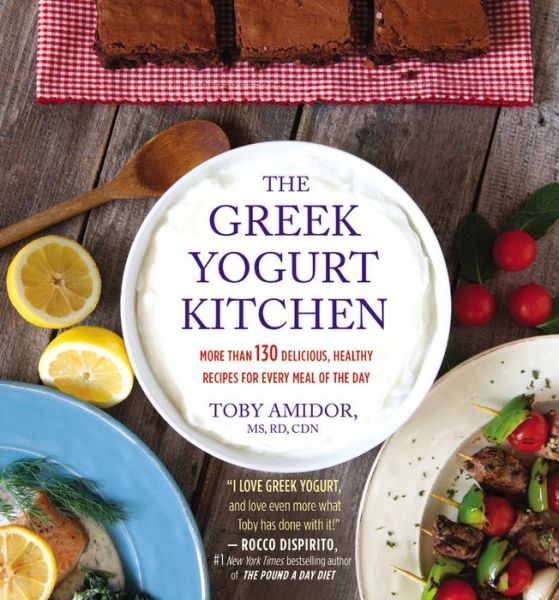 As I mentioned before, we love Greek yogurt so when the opportunity to review The Greek Yogurt in the Kitchen Cookbook I took it. I really like the looks of the Eggs Benedict recipe so I have shared it below.
This cookbook would be a great Mother's Day gift for you or your own mother. It contains over 130 recipes with meal ideas for breakfast, lunch, dinner or dessert. It also explains the health benefits of Greek Yogurt. I am really looking forward to trying new recipes, which is a change for me because I usually dread it because my family doesn't really adapt well to new things, at least certain ones.
You can find The Greek Yogurt in the Kitchen Cookbook at any major book retailer.
About the Author
Toby Amidor is the founder of Toby Amidor Nutrition, where she provides nutrition and food safety consulting services. She is a nutrition expert for FoodNetwork.com, writing for their Healthy Eats Blog, a regular contributor to U.S. News and World Report Eat + Run blog, and an adjunct professor at Teachers College, Columbia University. Toby trained as a clinical dietitian at New York University. Her expertise includes over 14 years of experience in various areas of food and nutrition. Through ongoing consulting and faculty positions, she has established herself as one of the top experts in culinary nutrition, food safety, and media.
Recipe from The Greek Yogurt in the Kitchen Cookbook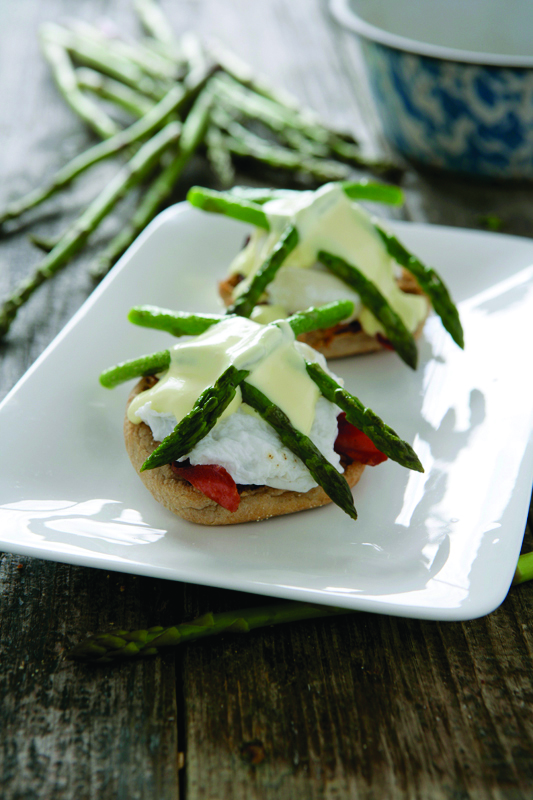 Eggs Benedict with Lighter Hollandaise
Serves 4
Hollandaise sauce is typically made with a stick or two of butter to serve four people. The fat and calories can easily be slashed by substituting nonfat Greek yogurt for much of the butter, while still using a touch of butter to maintain the traditional flavor.
Ingredients:
2 teaspoons unseasoned rice vinegar
4 large eggs
2 whole wheat English muffins
Cooking spray
4 slices turkey bacon (about 1/4 pound)
2 tablespoons unsalted butter at room temperature
2 cloves garlic, minced
12 medium asparagus spears, tough ends snapped off
1/2 cup nonfat plain Greek yogurt
2 large egg yolks
1 teaspoon fresh lemon juice
1/2 teaspoon Dijon mustard
1/8 teaspoon cayenne pepper
1/8 teaspoon kosher salt
Directions:
In a large saucepan, bring 6 cups water to a boil over high heat.
Add the vinegar and lower the heat until it is no longer at a rolling boil.
Crack an egg into a small cup, dish, or wineglass.
Holding it near the surface of the water, gently slide the egg into the hot water.
Repeat with the remaining eggs.
Cover the saucepan and allow the eggs to cook for exactly 6 minutes.
Remove each egg carefully with a slotted spoon and drain on a paper towel.
Toast the English muffins.
Coat a medium skillet with cooking spray and heat it over medium heat.
Cook the bacon until cooked through, 2 to 3 minutes on each side.
Place a slice of bacon on each toasted English muffin half.
In the same skillet, melt 1 tablespoon of the butter over medium heat.
Add the garlic and cook until fragrant, about 30 seconds.
Add the asparagus, cover the pan, and cook, tossing occasionally, until tender, about 8 minutes.
In a medium bowl, whisk the remaining 1 tablespoon butter with the yogurt, egg yolks, lemon juice, mustard, cayenne, and salt.
Transfer the mixture to the top of a double boiler, set it over simmering water, and heat it, whisking continuously until the mixture thickens, about 5 minutes.
Immediately remove from the heat.
To assemble the dish, place 3 asparagus spears over the bacon on each muffin half, and top with 1 poached egg and 2 tablespoons of the hollandaise sauce.
NUTRITION INFORMATION (PER SERVING): Calories: 241; Total Fat: 13 grams; Saturated Fat: 6 grams; Protein: 15 grams; Total Carbohydrates: 16 grams; Sugars: 3 grams; Fiber: 3 grams; Cholesterol: 295 milligrams; Sodium: 301 milligrams
Enjoy!

Share and Enjoy