I've said it before but I'll say it again, our family loves yogurt. We recently tried Stoneyfield Greek Yogurt. It was delicious.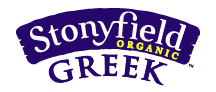 Did you know Greek yogurt has 20% of the recommended daily allowance of protein? And 30% of calcium? Greek yogurt also contains half the carbohydrates compared to regular yogurt — 5 to 8 grams per serving compared with 13 to 17! (Source: US News)
The store we where bought our Stonyfield Greek Yogurt only had Super Fruits, Blueberry, Strawberry Banana and I think that's it. I can't wait to try the other flavors. The night my husband brought the yogurt home everyone was hungry and I didn't even get a chance to take personal photos! If we get to the store this weekend for more, I'll try to take photos and add them!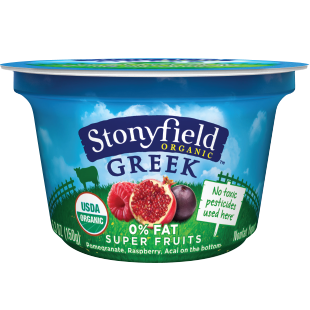 Super Fruits ingredients:
Our Family Recipe Yogurt (Cultured Pasteurized Organic Nonfat Milk), Pomegranate, Raspberry, Acai Fruit Preparation (Organic Sugar, Organic Raspberry Puree, Organic Corn Starch, Organic Acai Puree, Organic Pomegranate Juice from Concentrate, Natural Flavor, Organic Fruit and Vegetable Juice Concentrates [For Color]), Organic Guar Gum).
Live Active Cultures S. thermophilus, L. bulgaricus, L. acidophilus, Bifidus, and L. casei

About Stonyfield Greek Yogurt
Facts:
0% fat and twice the protein of other yogurts
Made without the use of harsh pesticides or GMOs
Ingredients are bought from farmers Stoneyfield trusts
Their cows are not treated with artificial hormones or antibiotics and their cows are treated humanely.
Greek flavors:
Super Fruits
Black Cherry** newest flavor
Blueberry
Cafe Latte** newest flavor
Caramel
Chocolate
Honey
Lemon
Peach Mango
Pineapple
Plain
Raspberry
Strawberry
Vanilla
Our Review of Stonyfield Greek Yogurt
We really loved it! The flavors were great. The yogurt was thick, yummy and tasted delicious! I loved the blueberry.
What Stonyfield Greek Yogurt flavors appeal to you?

Share and Enjoy