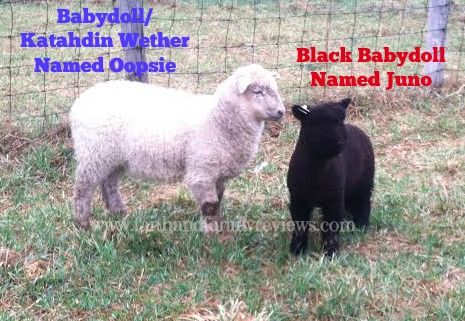 The above photo is of Oopsie, a Babydoll Katahdin. As his name denotes, he was a mistake. The breeders Katahdin buck got over the fence to one of her Babydoll ewes and voila now there's an Oopsie! Juno is our son's first Babydoll lamb, Juno, who is a pure bred Babydoll. The funny thing is both these lambs were born the same week! Because Oopsie's father was so much bigger, Oopsie will be larger than a standard Babydoll. They came home on 4/13. Oopsie is suppose to go back to the breeder as he is just a loaner companion until our son's ram lamb is ready to come home. All the children want to keep Oopsie and at the time of this writing he's only been here a day and a half! So we'll see.
Just discovered a photo of Juno just after she was born with her twin sister, Jellybean, in an email from the breeder. Aren't they sweet?

Bottom photo compliments of Hillbunker Farms.

Share and Enjoy