My kids are snack machines. I let them each have two snacks a day. One after their naps in the afternoon, and one at night while we are reading books before bed. I am always looking for a healthy snack to feed them. Trying to find a healthy and delicious tasting snack for kids is not always easy. Fruit is always a good option, but not always convenient when we are on the go. Baby Mum-Mum has come to the rescue!
Baby Mum-Mum offers a variety of snacks for babies, toddlers, and children. I absolutely love that all of their snacks are all-natural, gluten free, allergen free, contain no preservatives, and have no artificial colors or flavors. The best part is Baby Mum-Mums are individually wrapped so they are super easy to throw in my purse or diaper bag when I'm on the go. They are sold in three different stages.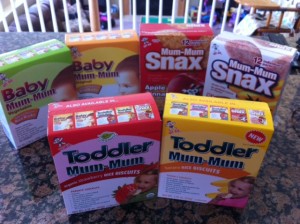 Baby Mum-Mums are rice rusks for babies, and can be their first solid food. They come in flavors original, vegetable, banana, organic original, and apple. Toddler Mum-Mums are for toddlers 18 months and older and come in flavors organic strawberry, apple, and banana.  Mum-Mum Snax are for children 4-12 years old and come in flavors white cheddar, apple cinnamon, and strawberry banana.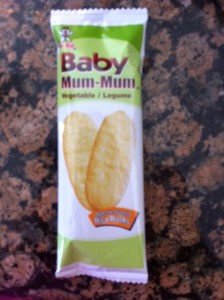 I let my one year old try the Baby Mum-Mums and her favorite was the vegetable flavor. This is great since she's not the biggest fan of regular vegetables; I have to hide them in her applesauce. Each package contained two rusks. I gave her one rusk, she took a bite and LOVED it. They are perfect for her since they dissolve in her mouth. I've never seen her eat a snack so fast!  Now I throw them in my purse when I go shopping and it's very easy for her to feed herself while sitting in the shopping cart. They are perfect size for her hands and the best part is they don't make a mess.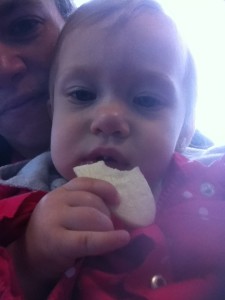 I wish I had found Baby Mum-Mums sooner for my kids. They are a great snack, very convenient, healthy, and easy on the wallet. They can be found at many major stores including Target and Walgreens. I will be recommending them to all of my friends with babies.  Baby Mum-Mums are a great product!  To learn more about Baby Mum-Mums, visit their website at
Share and Enjoy