Did you know that many of our animals we did not set out to buy? They sort of just happened at the right time and place (seller). Guess what? We bought another cow. Yes, another cow. Heifer actually since she has not yet had her first calf. It's an investment really. You see, Eclipse (a.k.a.) Miss Moo is struggling to carry a calf. We are pretty sure she's been successfully AI'd (artificially inseminate) twice now but has lost both calves early in pregnancy. We AI'd her again last Tuesday with a Dutch Belted cow (oreo cookie cows!

). Due to the trouble we've been having with her, I've been in touch with the farmer who had Miss Moo before the man we bought her from last spring. That farmer, farmer J, has been very helpful and resourceful in answering my questions and giving me more of Miss Moo's history. When I reached out to farmer J a few weeks ago after Miss Moo's most recent pregnancy loss, farmer J shared she was about to put Miss Moo's daughter up for sale. This cow has the same calm temperament, is purebred Guernsey and is just going on three years old – due to calf in September with a Guernsey/Jersey cross! This cow wasn't even been named yet so B got to name her Comet. Comet was delivered to our farm on Friday night.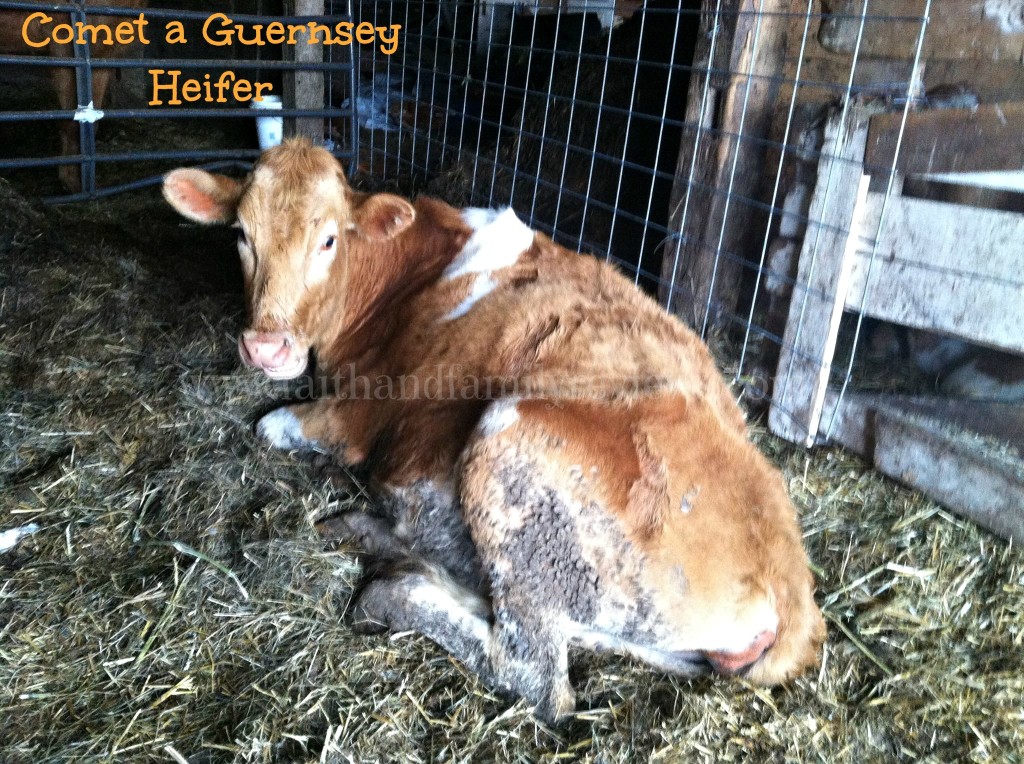 Another reason to buying a cow (or another cow in this case) is because when you have more than one cow it is easier to document their heat cycles. Now B has been very good at noticing Miss Moo's cycles but with our less than stellar success rate in getting her bred/carrying a calf, another cow could help us in that process. Plus, we've wanted a calf from Miss Moo and this guarantees we have one, in case we continue to fail in breeding Miss Moo. We have a nice retirement plan in place for Miss Moo if that happens.
Things we look for when buying a cow:
– Temperament is the most important to us. Yes, even more than production at this point. If our children are going to be the ones handling 1200 pound animals they've gotta have a calm disposition.
– Udder. We look at her udder. Though in Miss Moo's daughter's case, she hasn't produced milk yet but B will want to check her teats etc. to see how she looks and will be like to milk. Otherwise we would try milking her to see how well she stands etc. We missed seeing Comet has a fifth teat, but that won't affect her milking since it is behind all the rest. This would be important if she was being showed, but she won't be.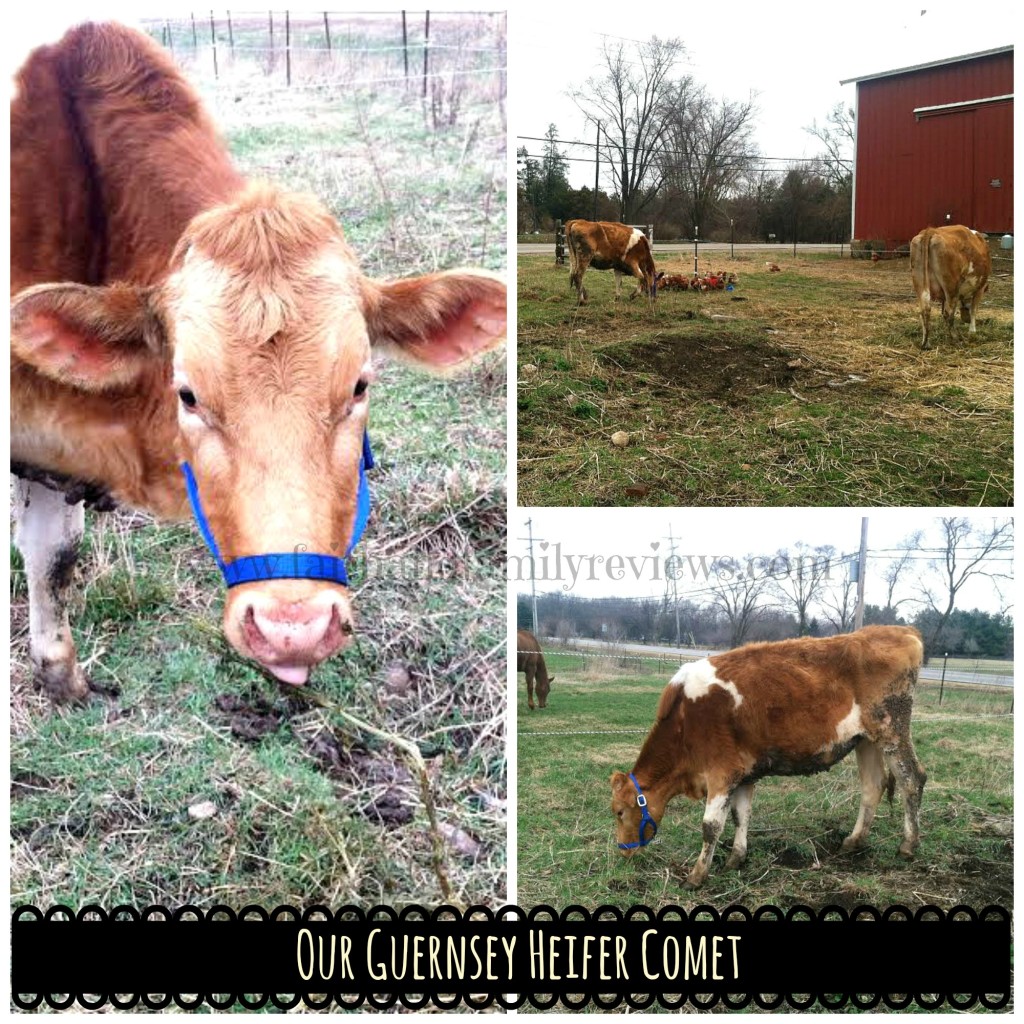 – Body condition, though we didn't know anything about this when buying Miss Moo, I didn't suspect it would be a problem since she is coming from a good farm. But we are still learning about body condition for heifers so what do I really know?
– Halter and leading. We halter Miss Moo and lead her with a lead rope. Comet has not been led or haltered so we had an interesting time of it on Saturday the day after she was delivered. I was quickly reminded why I was so hesitant to buy a young heifer! Comet has not been handled much at all since birth as she was put out to pasture with the herd until she was bred and ready for sale. I am happy to say she is slowly getting better.

Share and Enjoy