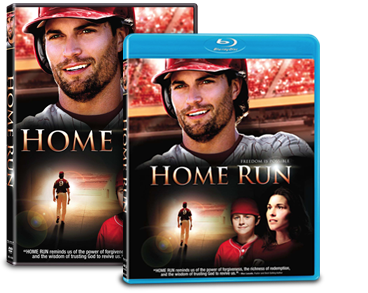 We found quite a few faith based movies on Amazon Prime (we are members). Some of them you have to pay for but a couple of them are free right now. One of the ones we watched for free this past weekend was called "Home Run". It is about a professional baseball player, Cory Brand played by Scott Elrod, who struggles with alcohol addiction. It is set in Cory's hometown where he finds himself after a car wreck and DUI. In order to avoid jail time, Cory is required to coach a little league baseball team, all the while trying to salvage his career and reputation.
The little league team, his 12 step program and his family all play a part in helping Cory, but ultimately it is God who gets Cory's attention.
As sobering as alcohol addiction is, this movie was entertaining with a powerful message. We really liked it. To be honest, I felt sorry for Cory, as he dealt with his "demons". I felt bad for his family who had to deal with him and his "problem". I grew up in a home where alcoholism was a huge part of our life. It has devastating affects and it forever gave me an extreme dislike for anything alcohol related. While my loved one never found the freedom Cory did in this movie, it is my hope that those struggling with any addiction find help and freedom only Christ can bring through His healing grace.
This movie is rated PG-13 for mature thematic material, or in my opinion, the violent outbursts, the drinking scenes and subjects discussed in group therapy. We let our children under 13 watch it. We've discussed alcoholism with them before, the other mature themes seem to have gone over their heads because they didn't illicit any questions from our children.
Watch the trailer here:

Share and Enjoy