The weather is s-l-o-w-l-y warming up here in the Chicagoland area. It's actually suppose to be 60 degrees today! Yesterday we were outside as a family hanging out, doing a bit of yard work but mostly just enjoying watching the animals and being together. So much for productivity in the work department, eh? We were all on one of the hay racks and I saw Padfoot just sitting in the backyard watching us. That's when I suggested that he really should be with us while we were outside. B voiced her concerns over Padfoot getting her goats but I assured her he'd stay by us. How did I know that? I didn't for sure but felt pretty confident he'd be content to play, be petted and hang out with us. And I was right. He chased the ball for the children. He took a run with B and generally sniffed around marking his territory.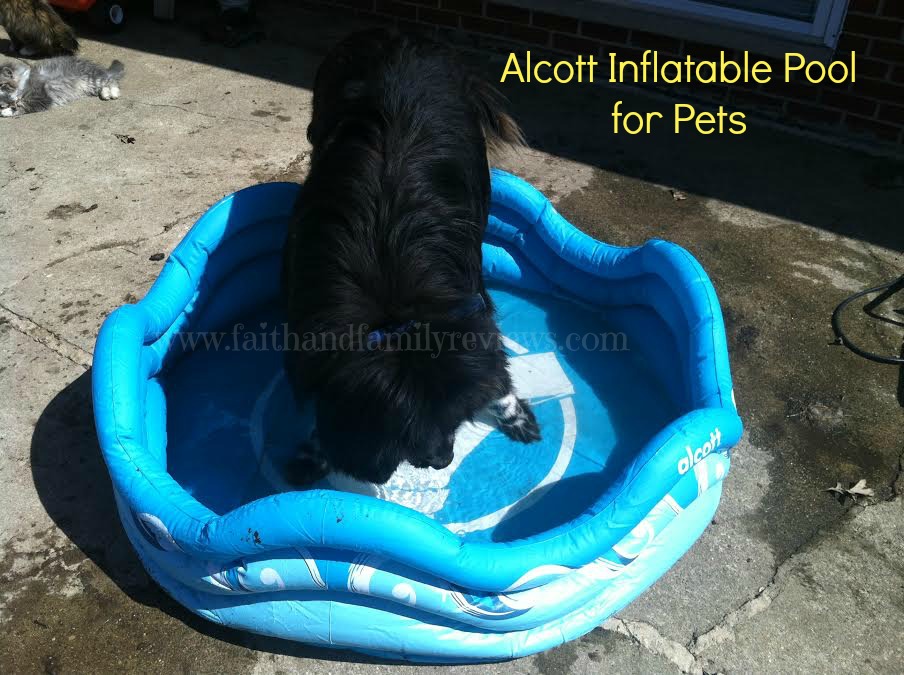 Padfoot is half Newfoundland, a breed of dog bred for water rescue in icy water, so he has triple layer of skin to protect him from the cold. This means in the summer time he really minds the heat. He needs lots of water, shade and to be cooled off, if he'll let us. He's not a fan of the water hose unless it is to drink from it. We've never taken him swimming, though we want to, so I thought reviewing an inflatable pool for pets would be a wonderful relief to Padfoot during the hot summer months. I also purchased the cooling bandana as well, just to try it out and try to keep "pup" cool this summer.
I was very thankful the weather was suppose to be warm today because I had been putting off messing with water hoses and cold water during freezing temperatures, especially since we've been sick with this horrible chest cold for the past two weeks.
Alcott Adventures Inflatable Pool Review

Padfoot actually barked at me when I was finishing blowing up the pool and then was shy about getting into the pool. We had to coax him into it with treats. I don't think it's hot enough to warrant him being interested even with his Newfie blood.
I had to blow the pool up by hand (mouth really) because we don't have a pump and I doubt any store does at this time either. I wasn't about to waste a beautiful day hunting for a pool pump. The valves had to dry before they stayed shut. Other than those challenges the pool will be a keeper for Padfoot this summer. If he doesn't use it, the geese will, if he doesn't burst it before then.
About Alcott Adventures:
Alcott offers dogs and their owners a complete line of gear and accessories to turn everyday walks into extraordinary adventures.
Alcott reinvented sizes for dogs to make it easy on their humans. Generally speaking, if you buy a medium collar, you'll also use a medium in all the other Alcott products.
What's interesting about Alcott's websites is you can shop Alcott online in two ways: either by category or by adventure. The Alcott store locator is available at: http://alcottadventures.com/apps/store-locator

Alcott Adventures $25 Gift Code Giveaway
Do you have a pet you'd like to gift with an item from Alcott? Enter our $25 gift code giveaway below. Giveaway ends 4/6!

Share and Enjoy