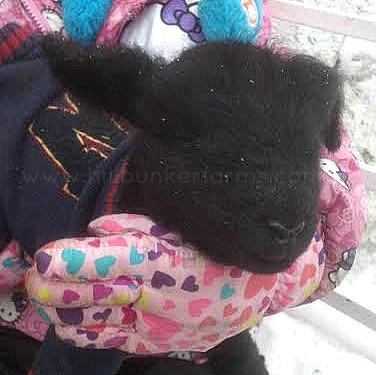 Photo compliments of Hill Bunker Farms
Meet Juno our son's new Babydoll lamb! Two weeks ago we received word from the breeder that she discovered black twin lambs. Apparently, a ram jumped the fence in September and helped make these cuties so she had early lambs. Since we were the first to reserve 2014 lambs, we were offered one of these black ones! For a bit more money we said yes! Our son is excited that Juno should be able to come home in six weeks, depending on if our other lamb is born or if there is a companion lamb available to keep Juno company until our second lamb is ready to come home.
Oh and she's a ewe (female sheep). We thought we were going to get a ewe and a ram (male sheep) but are kind of leaning towards another ewe….we'll wait and see what sex the next lamb is I guess. We need warmer weather to get more fencing up! Eeeks….so much snow to melt too.
Isn't Juno adorable?
Share and Enjoy