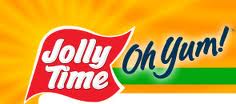 There is nothing like snuggling up with your loved ones around a classic bowl of good ole popcorn! Jolly time might even inspire you to write a love poem around those light , fluffy kernels of buttery goodness!
This Valentine's Day why not treat your family to some Jolly Time Pop Corn! Try out the recipe below for a special Valentine treat for the kids or any loved one! We sure did! We made the Choco Cherry Hearts for the family… and don't worry if you do not have a heart shaped cookie cutter … we made ours into balls instead and put them on the sticks and they turned out great as popcorn pops! So any way you "pop" it this is a great Valentine's treat! Throw them in the children's lunch or surprise a loved one with a bouquet!

Choco Cherry Hearts Bouquet Recipe

Makes about 8
Ingredients:
12 cups popped JOLLY TIME® Smart Balance Butter Light Microwave Pop Corn (about 1 bag)
1-1/2 cups dried tart cherries
1 (1-pound) bag mini marshmallows
1 cup white chocolate chips or chopped vanilla candy coating
¼ cup butter
Red food color
Long lollipop sticks or thick bamboo skewers
1 cup semi-sweet chocolate chips or dark chocolate morsels
Here's How:
Mix popcorn and cherries in a large bowl.
Place marshmallows, white chocolate, and butter in a large saucepan. Cook over low heat until melted and smooth. Stir in a few drops of red food color to tint the mixture pink.
Pour marshmallow mixture over popcorn; toss gently until well coated.
With wet or buttered hands, press mixture into a 3-1/2 to 4-inch heart-shaped cookie cutter (place cutter on a foil-lined baking sheet; press in popcorn, then lift cutter off).
Insert a lollipop stick in the base of each heart.
Allow popcorn hearts to cool completely. Meanwhile, melt the dark chocolate. Drizzle over hearts.
Allow to harden.
Wrap hearts in cellophane and tie with ribbon; stand them up in a vase or jar as a centerpiece or gift.
You can find more flavors, recipes, and inspiration from America's first family of popcorn ~ celebrating its 100th birthday this year! Please visit Jollytime.com for more information on this product, coupons and free offers!
Link to Jolly Time Pop Corn promotions (coupons and free offers with UPC submission)
Share and Enjoy