Nope, we are not having a baby! We just got our second oldest daughter's goats over the weekend! We were suppose to get her a goat last year but the one we found fell through. We took the summer off from looking and started our hunt back up in the fall. We found them in Wisconsin in November and because we wanted them bred, the owner kept them for the last two months to make sure they had ample time with the billy goat.
B decided on Oberhasli dairy goats. They are sweet natured and docile. The males (or wethers a.k.a. casterated males) may be used for meat. She named them Annabeth and Hazel. If both goats successfully give birth we could have anywhere from 1-4 kids come spring, as twins and even triplets run in their family and many goat families. That means our goat flock could grow from 2 to 6 or more very easily this year. B will probably keep one, give one to her sister for her birthday and sell any others. At least that's what she's thinking right now. We are looking forward to having our own goat milk as it is very hard to find for B's soap making business.
Excuse the watermark on my photos, they are for our farm and I just didn't want to take the time to make new ones for this blog.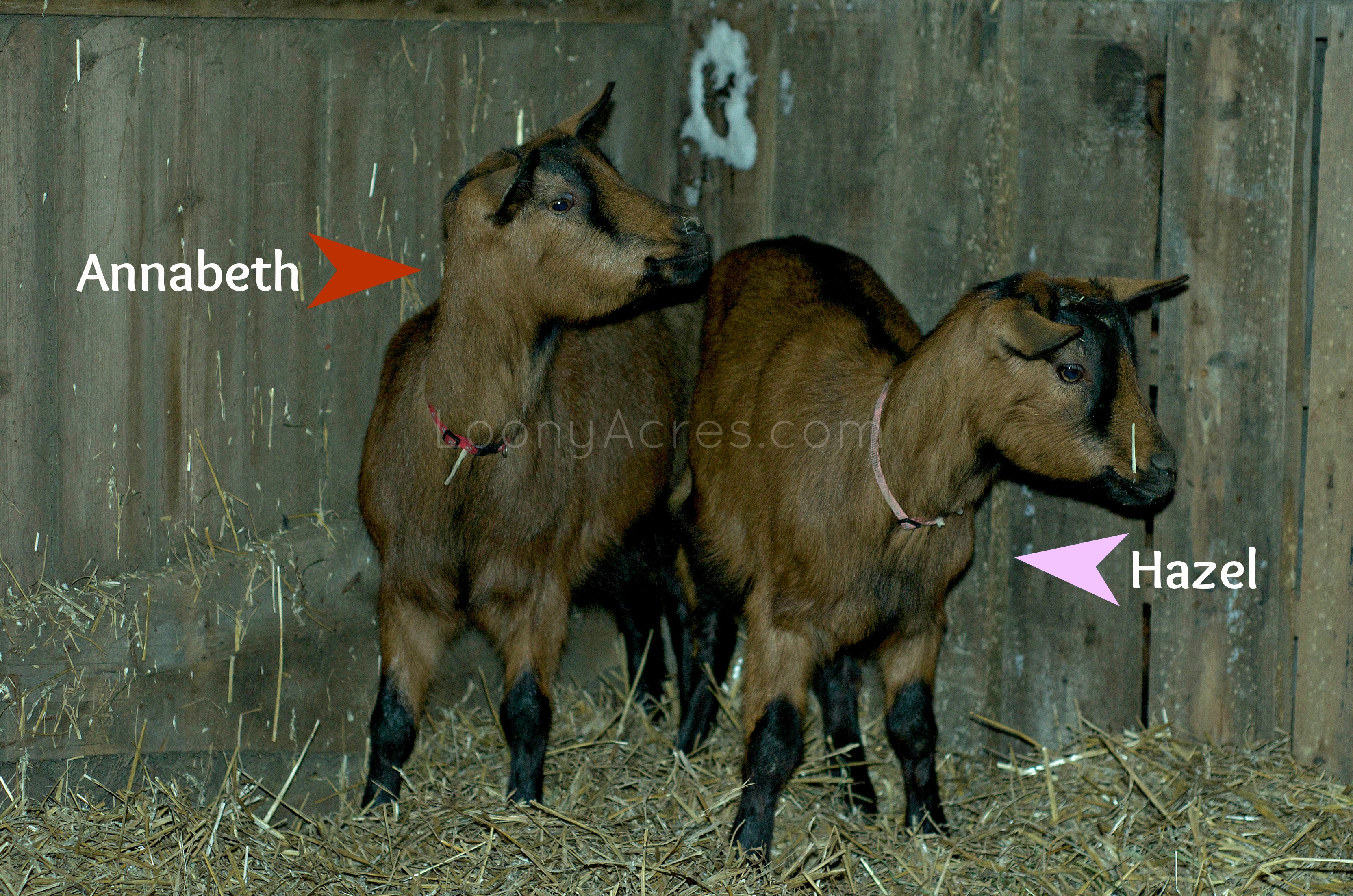 B and Hazel getting better acquainted.
Annabeth and Hazel traveled very well. It was a bit of a struggle to get them in the dog crate we used to transport them but once they were in there together they settled in nicely. By the time we got them home they were curled up together and hard to get OUT of the crate! Once we got one out, the other pretty much followed.
We have an old barn. It's all open in the bottom so there were no real stalls. We have had to create each of the stalls for the horse, the cow and now the goats. My husband built their stall out of free wood pallets. A friend gave us the idea to use wood pallets to make the goat's pasture and then we came across the idea for the stall when googling "goat stalls".

It is very rough looking but it does its job, was cheap and I think my hubby did a good job. I'll post about the DIY goat stall separately. I have to try and get better photos. The barn is so dark that it's been a challenge.
Here's to our "new" kids!

Share and Enjoy