Ah! Love is in the air – Valentine's Day is coming!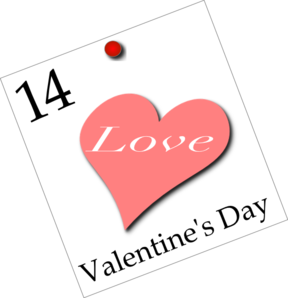 I remember the days of being Sweethearts –  going out to dinner, flowers, & candy.  My…My… can things change once kids enter the picture.  Valentine's Day has changed in our house, we now celebrate as a family.   Here's a few inexpensive ways to make Valentine's Day a family event!
1.)     Make heart pancakes for breakfast – Make your favorite pancake mix, add a few drops of red food coloring.  Stir up the batter good and cook them.  When they are done cooking, take a heart shaped cookie cutter and cut out your heart pancakes.
2.)    Heart shaped sandwiches for lunch – This is a good craft as well as lunch.  Build your favorite sandwich and then use the heart shaped cookie cutter to cut out a really cute sandwich.
3.)    You need flowers for Valentine's Day – Material needed:  a few sheets of colored tissue paper and a pipe cleaner for each flower.  Take the tissue paper and lay them on top of one another and then twist a pipe cleaner in the middle.  Fluff out the tissue paper to make tissue flowers.
4.)    You can't have Valentine's Day without chocolate –  My favorite is chocolate covered strawberries.  Buy strawberries at your local store and a bag or a few bars of your favorite chocolate.  Using a microwave safe bowl, melt the chocolate in 30 second intervals at first.  Stir the chocolate.  Once the chocolate starts to melt only microwave about 10 seconds or less, be careful not to burn the chocolate.  Use oven mitts to take the chocolate out of the microwave, it will be very hot.  Then dip your washed & dried strawberries into the chocolate, I sometimes use a spoon to coat the berry.  Place the chocolate strawberry on wax paper to dry.
Enjoy celebrating Valentine's Day as a family!
Share and Enjoy