Coffee Lovers Moody Sisters Review
I was so excited to get a box from Moody Sisters.  They are 100% natural organic materials!  Moody Sisters must have known that I love my coffee.  I received Coffee Body Polish and Coffee Bean Lip Balm.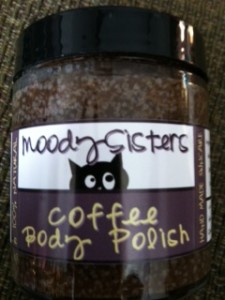 With the holiday's in full swing, Moody Sisters Coffee Body Polish could not have come at a better time!  It naturally reduces the look of cellulite.  I can read and understand all the ingredients – love that!  Check it out – Demara Sugar, Coffee Infused Oil, Cocoa Butter, Shea Butter, Coconut Oil, Beeswax, Vitamin E, and Essential Oils.  As you can see in the picture below the texture is grainy but, it goes on smooth.   The smell is out of this world, mixed with the warmth of the shower, it smelled like a coffee house in my shower.  When I came out of the shower my thighs were smooth, great product!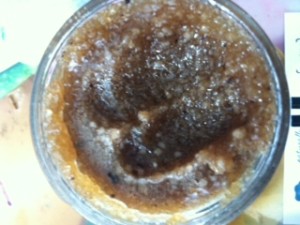 The Coffee Bean Lip Balm also has minimal readable ingredients and smelled wonderful.  It applied smooth and lasted.  Coffee Bean Lip Balm also left my lips moisturized, which is a plus during the winter.
Head over to Moody Sisters and order your favorite products today!  Don't forget to Like Moody Sisters on Facebook!
Share and Enjoy