Arts and crafts projects are always a big hit in our household with my four year old son.  They are even a bigger hit around the holidays, since we like to give homemade gifts to grandparents, aunts, and uncles.  Kid Made Modern collection is a great affordable option for kids and parents alike, plus they have great holiday craft ideas.  Sold exclusively at Target and target.com with nothing over $20!  They offer everything from crayons & markers, to craft kits like tie-dye & ornaments.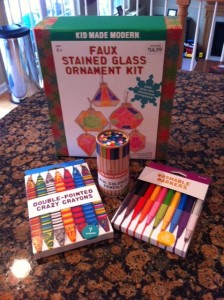 My son had a blast using the Double-Pointed Crazy Crayons, Mini Colored Pencils, and Washable Markers to color a birthday card.  The crazy crayons were nice and thick so they were easy to hold, and had super vibrant colors.  My son loved how "crazy" he could color.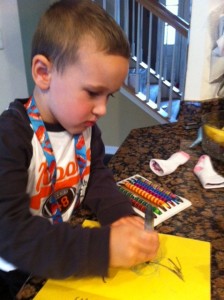 I loved how the mini colored pencils were packaged.  They came in a tube where the cover easily comes off and you can choose your color.  It was way easier for him to get them out of the tube opposed to the traditional box where they are all aligned in a row.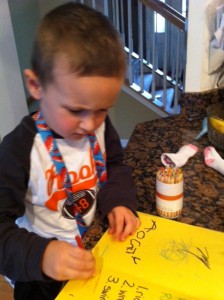 The markers were very unique, too.  They had ridges on them like a pencil, but they still felt smooth.  It made it very easy to hold and color.  Any of these would make great stocking stuffers!
We also had a chance to try one of the Kid Made Modern Faux Stained Glass Ornament Kits.  Even though the age on the box says 6+, I figured my four year old could do it with my help.  It contained all of the supplies to create six ornaments including the directions.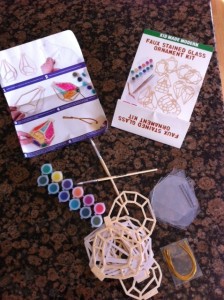 My son had a great time painting the ornaments and waiting patiently for them to dry so he could see them finished.  Each ornament was individually wrapped with a plastic film to protect it from getting scratched.  I found this to be very difficult to remove.  It took me a couple of minutes for each ornament.  I wish I would have removed all of the plastic films before I had my son sit down for the project.  I loved how many different color paint choices came with the box as well as two different sized paintbrushes.
It even included string to hang each ornament.  We made one for each set of grandparents and a few for some other family members.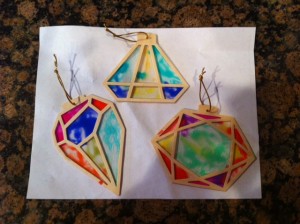 Kid Made Modern kits would make great holiday craft ideas and gifts for children this Christmas season.  Check out their array of products at
Share and Enjoy