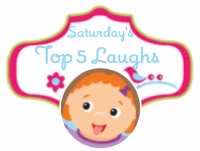 I think I did better writing down funny things as they happened this week so it is officially time to laugh with the Goulds again! We have joined The Mommyhood Chronicles for Week #3 – for us – in the Saturday Top Five Laughs of the week.
5. We were discussing what to do with the eggs from the day and probably throughout the week since the little ones haven't been good at being thorough in their egg gathering! I suggested we not wash the eggs so they'd last longer and keep them for us. My husband proceeded to tell our daughter to put a "U" on a piece of paper and put the paper on the egg cartons in the fridge. My daughter went, "Huh? A "U"?" My husband and I said at the same time, "Yes, for us/unwashed." She goes, "Why not WW for us unwashed?" Baffled we said, "WW?" and laughed. Then she clued in, laughed and put her head on the table!
4. I was working on photos for a blog post, the rest of the family was playing RISK and my little guy was in my chair with me singing in my ear and giving me kisses. I have no idea what he was singing but it was cute…until he took my glasses off my face and covered my eyes with his hand!
3. This week my little guy has been asking me, "You my mommy?" I always respond, "Yes, I'm your mommy" then he gives me a hug and kiss. After a few times I started asking him, "Are you my baby boy?" and he responds with, "Yep!" Sweet times!

2. My second oldest, "B" and I stayed up a couple nights and played with the kittens. We just laughed at their antics as they chased anything that moved. Boy are their nails sharp!
1. I was sitting on the computer writing this blog post eating a bowl of blueberries and my third daughter was sitting next to me. Then she says, "Mommy I think I flicked boogers in your blueberries." I was like, "What!?" Then she laughed. Mean. Mean. Mean girl. She just read this and laughed again. Evil I tell you!

Share and Enjoy