I received free LeapFrog products in order to host the LeapFrog sponsored MommyParty.  The opinions expressed here are my own.
I am thrilled that I was able to be a host for the LeapReader "Ready, Set, Read & Write" Party, sponsored by Leapfrog!  LeapReader is the complete learn-to-read-and-write solution.  It combines reading, writing, and listening into one easy and fun system.  LeapReader uses books, flash cards, workbooks, audio book apps, music apps, and even trivia apps to enhance the learning experience.  If you've never tried a LeapReader, you must.  It is lifechanging!  My son and I call it a magic pencil, since it knows everything.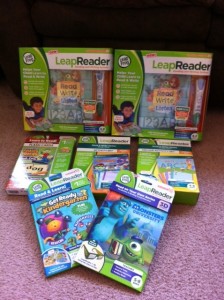 The activity book that came with the LeapReader was great.  It really taught us how versatile the LeapReader was.  For example, we turned to the page featuring "Cars" and the LeapReader read it to us.  It also had a game to play, and it would sound out the words for you if you touched the words with the LeapReader.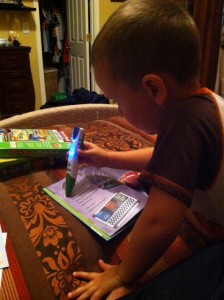 When we turned the page to the "Leap and the Lost Dinosaur," my son loved pointing the LeapReader on the different pictures and learning fun facts about them.  He was engaged the entire time, and was learning.  It is the best of both worlds!  Another page he loved was a game you played with the "Muscular System" page.  The LeapReader would give you a clue and you had to point to the answer.  For example, touch the muscle you smile with.  We played that for a good ten minutes.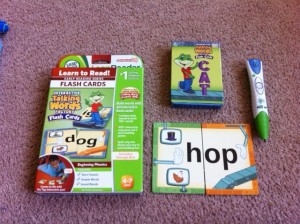 The LeapReader flash cards were a hit, too.  You are able to mix and match letters to build words.  It has rhyming, spelling, and singing games as well.  My son's favorite were the singing games.  If you touch one of the pictures with the LeapReader it sings a song, spelling and sounding out the picture.  It actually made him start to remember how to spell the words, it was very catchy!  My favorite feature was the included sight words list.  Just touch the word with the LeapReader and it would say it.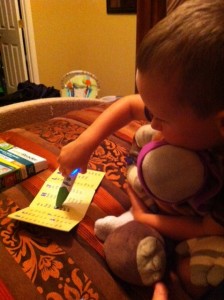 We attempted the Writing books, but my son was more interested in hearing the stories than writing.  Some of my friends' kids came over and tried them, and they had a ball!  The LeapReader really tells you step by step how to write Upper and Lowercase letters, while saying letter sounds.  I found it amazing that the writing magically appears on the special paper.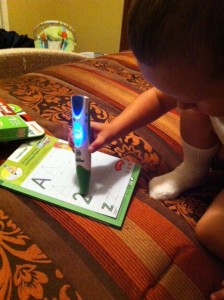 Each of the writing activity sets includes a workbook filled with fun activities as well as extra writing paper so you can practice.  The activity books are so interactive that the kids are constantly engaged.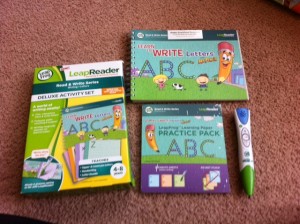 The Get Ready for Kindergarten book is a must for all preschool aged children.  It teaches letters, vowels, beginning sounds, blends, patterns, numbers, skip counting, math, months, seasons, community places, and more.  This was my son's favorite book.  He plays with it almost daily.  There is so much to do on each page, that he rarely does the same thing twice.
My son really enjoyed reading the Monsters University LeapReader Interactive Book, too.  You can either touch on the book picture and it will read it for you, or you can touch word by word to read and follow along.  For now my son likes to listen to it, but I'm sure in no time he will be wanting to touch word by word.  This will then teach him how to read.
I am absolutely in love with the LeapReader "Ready, Set, Read & Write" system.  In additon to all of the workbooks, flash cards, and books you can buy for your LeapReader, you can also download apps to put on the LeapReader.  Mine was conveniently loaded with two audio books, learning music, and a trivia app.  Let me just tell you how amazing this is for travel.  My son brings this in the car, plugs in his headphones, and enjoys listening to the stories and music.  With a touch of a button you can switch between apps.  The LeapReader is lightweight so I carry it in my purse or diaper bag when we are out and about so he is always entertained and more importantly, learning.  The best part is that no batteries are required.  Simply charge it with the included USB cord and you are good to go!
I can honestly say that this LeapReader is life changing.  I will be telling all of my mom friends about how great of a learning tool this is.  It is great for reading, writing, and listening skills.  My son has yet to become bored with it, and continues to ask me to buy more books or apps for him.  I love that he asks me to buy him books rather than toys.  The LeapReader is definitely going to create lifelong learners for all children who use it!
I received free LeapFrog products in order to host the LeapFrog sponsored MommyParty.  The opinions expressed here are my own.
Share and Enjoy