"I participated in a campaign on behalf of Mom Central Consulting for Welch's. I received a promotional item as a thank you for participating."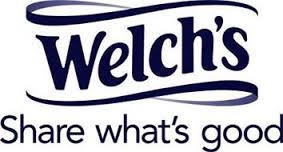 Welch's believes in the magic of "kitchen table" moments, and has been helping families enjoy them for generations. In the time it takes to drink a glass of juice or share a sandwich, a special moment can happen. That's why Welch's just launched a new movement called "Share what's good™" It's all about sharing those special moments that occur each day with family, friends and loved ones – whether it's at home or on the go. At Sharewhatsgood.com you'll find a variety of great content from fun family ideas to delicious recipes. You can share photos of your every-day moments and see how others are doing the same.
In our family we share every meal at the kitchen table. This allows us to have a bit of quality time just for the family and connect with each other for more than a few minutes each day. It is also a time of reflection and disconnection! By this I mean reflecting on the day/week and disconnecting from technology! Enjoying a meal and good conversation is so important in today's fast paced technological world. It is so nice to sit down and just chat without a technological device "on".
I hope that you can enjoy a meal once a day or even once a month with your family to connect! Thinking beyond the traditional family it is also nice to gather with friends to establish a relationship at the table of fellowship and friendship! I know we gather with some church friends and other people in some of the areas that we minister to in our church at least once a month. (We used to do this weekly after church; until we had children then it became too hard). Establishing fellowship with our community is very important to us…in our home this is just an extension of the family!
So whether you sit down daily, weekly, or monthly…and whether it is with immediate, extended, or community family …TAKE THE TIME to relax and enjoy some time to SHARE WHAT IS GOOD! …And make sure to take Welch's along for the ride!
The "Share what's good" Photo Contest Details:
As part of the Share what's good campaign, Welch's has launched the "Share Your Moments" photo contest! From 9/16 to 10/25 upload a photo of your favorite family moment for a chance to win $5,000! While there is only one grand prize, everyone who enters will get a $1.50 coupon for Welch's 100% Grape Juice – or $2.00 if you share the news. Visit Sharewhatsgood.com to enter.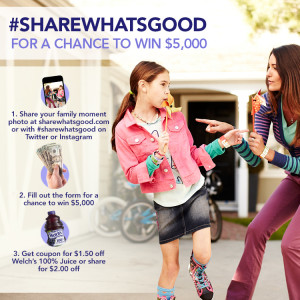 Please Visit the following social media sites to learn more about Welch's
Welch's Facebook page: www.facebook.com/welchsgrapes
Welch's on Twitter: @Welchs
Welch's on Instagram: @Welchs
Share and Enjoy