Head lice problem? No worries ROBI COMB can help!
Robi Comb is Pesticide FREE, Chemical FREE, Oil Free, and Reusable 100's of times!
What is Robi Comb?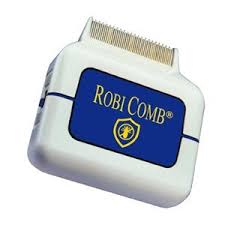 From the makers of LiceGuard Robi Comb is a patented product that detects and destroys Lice on contact! Simply comb through DRY hair and when the electronic Robi Comb contacts lice, they get zapped and die!
What are the benefits?
Detects Lice - Just comb through dry hair
Destroys Lice on Contact
No Chemicals / Non-Toxic
No Mess, No Gels, No Oils
No Odor or Fragrance
Use Anywhere and Anytime on Dry Hair
Reusable and Economical
Remember that the Robi Comb is Safe and Effective
Parents are becoming wary of using dangerous chemical gels, oils and toxic shampoos that poison lice, because of serious health risks! These treatments use chemicals that are harmful to living things, and may cause harm to your children.
In addition, although lice can build up a resistance to pesticides used in other lice treatments, lice cannot become resistant to the Robi Comb. The Robi Comb works when chemicals shampoos fail.
VERY ECONOMICAL

The Robi Comb is also a very economical way to kill lice fast. Harsh chemical treatments and toxic shampoos cost between $9 – $15 a treatment. Most shampoos suggest between 2-4 treatments per out-break, per person. Compare that to 1 multi-use Robi Comb that can be used over and over, as often as you like. The Robi Comb can be stored and used repeatedly by the entire family!
Our Robi Comb review: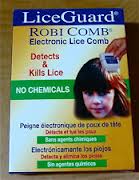 We are very fortunate to have NEVER (knock on wood) experienced a lice outbreak in our house.  But let me tell you … if we ever come in contact with the little buggers ROBI COMB would be our first course of action. I am very leery of lice products that leech chemicals directly into the scalp…cannot be good right? The Robi Comb is a great alternative. It is electronic and non-invasive…just comb through the hair and zap the little buggers! Even though I use the word electronic and "zapping" the product does not hurt…at most it just tingles.
I also liked that the teeth of the comb are detachable from the product so it is easily cleaned and sanitized for the next user or future uses. For heavy users or people who like to keep things separate… you can buy replacement teeth and each person in your house could have their own "teeth" that just pops into the unit…if you are so inclined (much cheaper than buying a unit for each family member).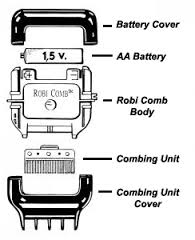 Overall this is a neat product and I am glad that a company has come out with an alternative to the harsh lice treatments that are currently on the market. I also noticed that the product is readily available at the local Walgreens or CVS…so it is SO convenient to get…no ordering online or waiting for shipments…simply go to your local store! Of course the product is available on line to our online shoppers… visit robicomb.com for their whole product line and ordering information!
Share and Enjoy