Faith and Family Reviews received the following product in exchange for writing a review. While we consider it a privilege to receive free products to review, our reviews are our honest opinion and thoughts of the product.
For the most part, my children love going for walks in the stroller.  Whenever I go to the mall, though, I always end up shopping too long for their liking.  Usually I hand them my phone and let them play games or watch videos.  This works okay, but I'm always stressed making sure they don't drop it, or someone steals it from their little hands.  Now there's a way for all of us to be happy.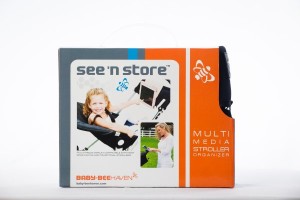 The See 'n Store multi-media stroller organizer does it all and more. This lifesaver fits a tablet, iPad, iPad2, or portable DVD player.  In addition, it contains a trash bag (with kids I always have trash!), drink holder, key ring, and other pockets to store baby supplies, phone, or whatever else you carry with you. It can be used in two different ways, either for mom to look at or the kids to look at. When the See 'n Store is placed on the stroller facing mom, you can easily access your tablet to check e-mail, surf the Internet, or view photos and videos. I found this to be great. At the playground while the kids are running around, I can easily check my e-mail while still keeping tabs on the kiddos. It's also nice for when my daughter falls asleep in the stroller. She likes movement for her naps, so I'm always rocking her. Being able to watch videos while rocking her, sure passes the time.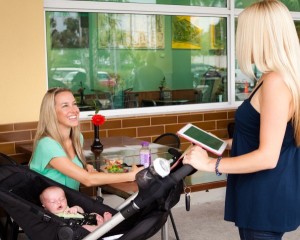 Then when I need to keep the kids occupied, I can simply reverse the See 'n Store organizer to their side, so they can watch videos hands-free.  I loved this.  I no longer had to worry about my son dropping my electronic device, or touching it with his cereal-eating hands. He could just relax, enjoy his snack, and watch videos.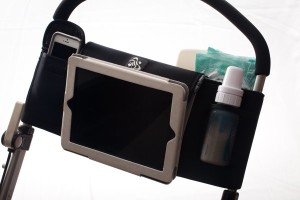 The See n' Store is very easy to attach to the stroller. It fits on rear-facing and front-facing strollers for mom to "see" and rear-facing strollers for baby to "see". This organization tool is very well made, and holds everything you can possibly think of. I plan on bringing mine to Disney. It will be a lifesaver while we wait in line, and at the airport. I would definitely recommend the See 'n Store multi-media stroller organizer to all moms on the go!
http://baby-beehaven.com
Share and Enjoy