"I participated in a campaign on behalf of Mom Central Consulting for CaringBridge. I received a promotional item as a thank you for participating."

We have friends in our old church who had a child born with a facial birth defect. She has had numerous doctors appointments, wonderful care and has experienced great progress in her growth and development. However, when she was first born many things were pretty much up in the air because lots of discussion and follow up had to be done in order for the parents and doctors to the right path of treatment for this child. In order to keep all of us who were surrounding them with love, care and prayer, the family created a webpage dedicated to update specific for this child. They used a site like CaringBridge to send out updates and photos.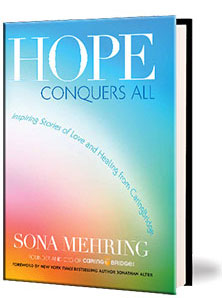 Most of us have experienced a life-changing illness or had a family member or friend who has. CaringBridge is a nonprofit organization which has served families for more than 15 years, offering hope and inspiration to struggling families. Sona Mehring, the founder of CaringBridge shares a collection of these important hope-inspiring stories in her new book, Hope Conquers All. The stories range from young children with cancer, to adults awaiting transplants, these first-person accounts reveal the importance CaringBridge had in their personal journeys. If you have someone special who needs your love and support through a troubling health issue, or you are even faintly interested to learn how brave these individuals were through such hard times, consider learning more or purchasing Sona Mehring's book here: http://caringb.org/hope. All author proceeds will go to CaringBridge.
Share and Enjoy