"I received this product for free from Smiley360 in exchange for my honest review. You can join Smiley360 here!"
Centrum Flavor Burst Review
When presented with Centrum Flavor Burst I have to be honest, I was a little skeptical.  How could a multivitamin actually taste good?  Sometimes the things that are good for you don't always taste good.  I'm here to tell you that Centrum Flavor Burst Supplements actually do taste good.  The cherry (red), blueberry (blue), and grape (purple) balls look similar to gum balls.  Centrum suggests taking 4 chewable tablets per day and they can be consumed with or without food.  I do caution that they contain soy.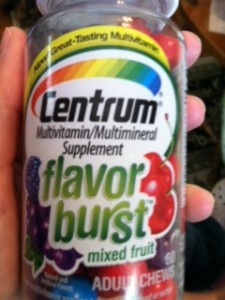 Who has kids?  You probably need more energy and an immune booster, Centrum can help you out.  With the Vitamin B and antioxidants included in your flavor burst delivery capsule, you'll keep up with your kids and be healthier!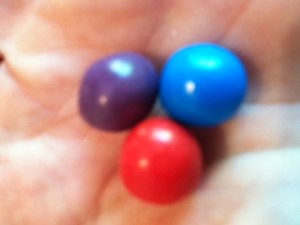 Packed with Vitamins A, V, D, E B6, B12 and folic acid, this is the vitamin for everyone!  Get yours today, Centrum is offered at most grocery and big box stores, as well as your local pharmacy!
Click here for a coupon and don't forget to like Centrum on Facebook.
Share and Enjoy