"I participated in a campaign of behalf of Dad Central Consulting for AVEENO.  I received product samples and a promotional item as a thank you for participating" –
Guest Dad Blogger Scott is back with another great product!
I wake up every morning and do the same routine.  Stumble into the bathroom, brush my teeth then head for the shower.  Thanks to AVEENO Active Naturals for Men my shaving habits have changed.  No more razor burn or tiny pieces of toilet paper on my face.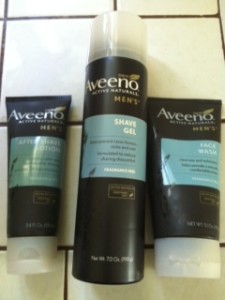 AVEENO Active Naturals for Men Face Wash –   Those little scrubbing beads are invigorating; they are just what I need to clean my face.  In addition to the exfoliating, the face wash also helps before I shave.  I can feel that pores are almost breathing, it's a great cleanser.
AVEENO Active Naturals for Men Shave Gel – After using your AVEENO Face Wash.  Apply your shave gel, it has a pleasant odor and is a white almost foamy gel.  I found that my razor moved very smooth over my face and didn't cause any burn, nicks, or nasty razor burn.  Very soothing for your face while shaving.
AVEENO Active Naturals for Men After Shave Lotion –Before I put on the After Shave Lotion, I was taken back to the kid from the movie "Home Alone" when he put on the after shave.  No more screaming when putting on this lotion.  It applied smooth and felt very comforting with no stinging.  With the 24 hour protection, my skin felt soft all day.  Another great product by AVEENO.
The active ingredient in this AVEENO Active Naturals for Men line is Oat.  The oat cleans, moisturizes, and soothes.  This is great for men of all facial types.
I found my skin to be smoother, with less nicks and razor burn.  By using the 3 AVEENO products together, it gave my face a fresh feeling.  Which I really enjoy, I will continue to use AVEENO Men's Products in the future.
Did you know that AVEENO is a product line for the Johnson & Johnson Company!  AND – AVEENO products are also easy on everyone wallet!   That's a plus in my book!
Share and Enjoy