Looking for a fun and free activity for your kids!?  Check out Home Depot's FREE kids Workshops!  The next workshop is focused on the upcoming movie "EPIC" and your child will be building an herb planter!  It's on May 4th!  Home Depot also has 2 more upcoming workshop's in June & July!
So far, my daughter built a bird feeder, here she is painting it.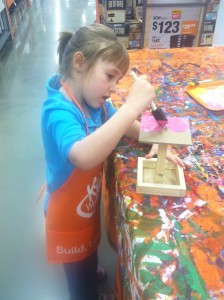 She received her very own Home Depot apron, pin for her build, and a certificate!  She is very proud of her accomplishments!
Head here or go to Home Depot's site for more information!
Share and Enjoy