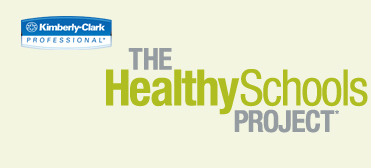 The Healthy Classroom Station Review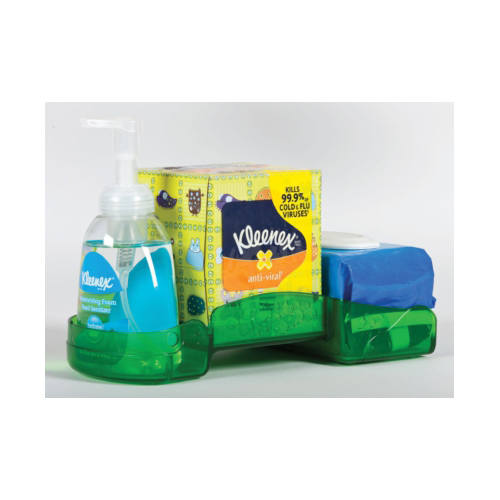 Kimberly-Clark Professional is taking the lead in helping transform schools into healthier learning environments.
Good Hygiene habits should begin early. The Healthy Classroom Station brings accessible product solutions to the classroom. Students learn to WASH, WIPE, and SANITIZE to help reduce the spread of germs.
Statistics show that the average student misses 4.5 school days each year due to preventable illness. Symptoms of illness are bad but so are the side effects… when children are ill their performance suffers. Student absences are linked to lower achievement and higher school dropout rates. Even when ill students are physically present but they often perform poorly. Further more, it is not only the student that is affected but parents' work in affected. In the U.S., caring for a sick child results in 126 million lost workdays and $14.5 billion lost in productivity annually. This affects schools because schools spend over $2 billion on substitute teacher pay each year. Studies show that teacher absenteeism also affects student achievement.
Absenteeism starts with presenteeism ~ coming to school sick. When ill students touch a doorknob, keyboard, desk or other surface, they leave germs that can live up to 48 hours. Other students and teachers pick up those germs, and the cycle continues.
Kimberly- Clark Professional has come up with a solution to combat germs in the classroom. The Healthy Classroom Station!
The classroom Caddy creates a fun, engaging way to promote good hygiene in the classroom. Fill it with the hand sanitizer, tissue, and surface wipes to create a Healthy Classroom Station. The Classroom Caddy boasts a durable design, suitable for use by children age 3 and above (patent pending).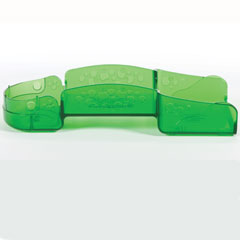 Contents of the Caddy: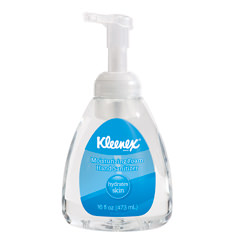 KLEENEX Hand Sanitizer ~ effectively kills germs on hands with a foam formula that is perfect for schools. It is 99.9% effective against most common disease-causing germs in as little as 30 seconds. One step sanitizing solution. NO rinsing required.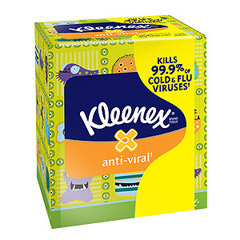 KLEENEX Anti-Viral Tissue ~ moisture-activated middle layer that is scientifically proven to kill cold and flu viruses.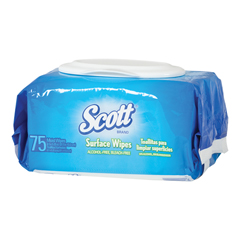 SCOTT Surface Wipes ~ safe enough for children to use. Clean high touch surfaces by removing soil, dirt, and other contaminants without the use of disinfectants. Alcohol and bleach free. Safe for children to use.
Our Review:
This is a neat innovative product! We really liked the Classroom Caddy and the Kimberly-Clark products. We used the products at home in order to do this review… but I WILL be giving a caddy filled with new products to my daughters preschool class. I wish I had more of these to go around as my other two children's grade school classes could certainly benefit from a germ fighting kit!
On to the review… the caddy effectively fits all of the products securely and it easily fits next to the sink on the counter. The Hand sanitizer option is a nice plus. Having the sanitizer in a convenient pump and in the handy caddy location proved useful. I also liked that the sanitizer was of the foam variety. The foam seems to be easier for the children to dispense with less mess. The KLEENEX anti viral tissue is very nice. I must admit that I have not used this version of KLEENEX before this review…. But it is very soft and easy on the nose…plus it has the anti viral properties that are a large plus! Most of all I LOVED the SCOTT surface wipes. This is a great product! I often use regular sanitizing wipes on my counters and sometimes a bleach spray on the doorknobs. I LOVE the option of having an alcohol and bleach free product to wipe off the doorknobs and children's toys, etc. This is a much safer option!
Overall we LOVE the Caddy and all of the contents. As I mentioned I intend to refill it and give it to my daughter's preschool. I think that these are wonderful product to combat germs. How convenient not only for schools, but for anyone really! Think about it… homes, homes schools, daycares, in home daycare, etc… Wow! So many places…so many uses! Thank you Kimberly-Clark Professional!
For more information about these products and other solutions for your home or school, visit www.kcprofessional.com
Faith and Family Reviews received the following product in exchange for writing a review. While we consider it a privilege to receive free products to review, our reviews are our honest opinion and thoughts of the product.
Share and Enjoy