Gourmet chocolate covered strawberries and melt in your mouth cheesecake is the key to my heart, and oh boy did Shari's Berries deliver!  I have ordered many gifts from the Internet; flowers, photo gifts, music, etc., but never strawberries nor cheesecake.  This gift was intended for myself, but as soon as my husband saw what arrived, I was forced into sharing.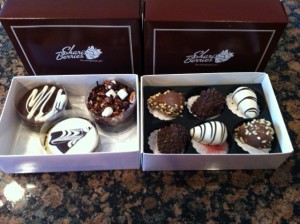 To begin with, the ordering process was very easy.  Although they have a multitude of products, it is easy to search for exactly what you are looking for.  You can search by occasion, strawberries, chocolate lovers, bake shop, gift baskets, or specials.  You can even type in what you are looking for in the search engine and all of your options will come up.  Once you decide what you would like to purchase, you are given the choice of what product you want.  For example, I chose the Cheesecake Trio and Full Half Dozen Fancy Strawberries, but in the ordering screen I had the opportunity to upgrade to a full dozen fancy strawberries.  The next step is to choose the delivery day.  When you click on the calendar it shows you when standard delivery would be, and when standard delivery plus an extra fee would be.  Once you place the product in your shopping cart, you have the option to include an extra gift such as a card or a cookie.  The site then walks you through the checkout process, which is very secure and user friendly.  You can order as a guest or create an account.  I created an account and am very happy I did.  I cannot tell you how many discount codes I have received for future orders.  In addition I received a confirmation e-mail with my order number, an e-mail when my order was being shipped with a UPS tracking number, and an e-mail when my order was delivered.  This is important to me for future orders.  I like to know when my gift arrives at the intended location so I know when I should receive my thank you phone call!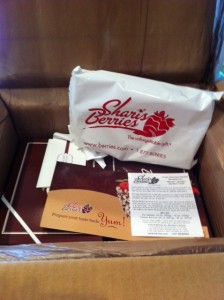 When the package arrived it was very nicely packaged with an ice pack that kept the yummies nice and cold.  The strawberries were carefully packaged in a tray with each strawberry in their own indent so each one was perfect on arrival.  As soon as I opened them I wanted to take a bite!  I restrained myself, though, and put them in the fridge.  They suggest eating them at room temperature, but I like my strawberries cold so I kept them cool.  I received a total of six dipped strawberries.  Two were milk chocolate dipped in nuts, two were milk chocolate dipped in chocolate chips, and two were white chocolate dipped with milk chocolate swirls.  Both my husband and I loved all three kinds, our favorite was definitely the milk chocolate dipped in chocolate chips.  They were simply mouth-watering!  It is suggested that the strawberries be eaten within 48 hours and we did not have a problem doing that; they were so delicious!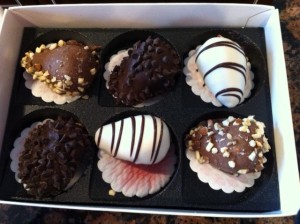 The cheesecake also arrived in a seperate box.  When I first opened them, I was surprised by how small they looked.  I thought they could be eaten in about three bites.  The cheesecakes looked absolutely deluctant, though.  Even though I thought they looked small, I decided to be nice and split them with my husband.  Each cheesecake had a plastic wrapping around them to keep them in contact, which was very easy to remove.  Once I unwrapped one and split it in half, I was pleasantly surprised that it wasn't as small as I had thought.  Half of one was a perfect amount for me.  The three different cheesecakes included a New York Cheesecake, a white chocolate cheesecake with a chocolate candy on top, and a chocolate rocky road cheesecake, which was by far our favorite!  The cheesecake was the perfect consistency, not too heavy and not too light.  We thoroughly enjoyed them!  The cheesecakes need to be eaten within five days or they can be frozen.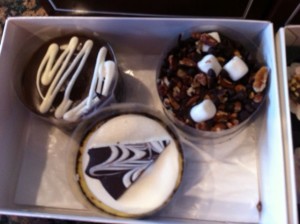 Overall, Shari's Berries was truly a great experience.  I loved the comfort of shopping online and choosing exactly what I wanted.  The ordering process was very easy and I loved the confirmation e-mails and coupon codes for future orders.  The packaging was great, everything arrived looking perfect.  Best of all, both the strawberries and cheesecakes tasted out of this world.  Shari's Berries is a great company to order through that offers quality gifts for every occasion.
To place an order go to:
www.berries.com/mothers-day-berries-sbn
For coupon codes to use on your order go to:
http://www.berries.com/coupon-codes.aspx
Faith and Family Reviews received the following product in exchange for writing a review. While we consider it a privilege to receive products to review, our reviews are our honest opinion and thoughts of the product.
Share and Enjoy