What do you get when you combine a cocktail hot dog and a pretzel?  A lot of happy Super Bowl fans!  I had a small family gathering for the Super Bowl and served SuperPreztel Pretzel Dogs.  Besides my lack of mustard, they were a hit!  So much so, that when I was done making sure everyone was settled. They were GONE!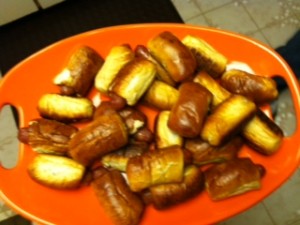 SuperPretzel Pretzel Dogs come in 3 flavors – Originial, Cheddar Cheese, and Jalapeno. They are beef hot dogs and are very easy to make!
Preheat your oven to 275 degrees, Place your 12 Pretzel Dogs on a cookie sheet and let them thaw for about 15 minutes. This is a VERY important step. I probably only let mine thaw for 5 minutes and they were not done after the 8 to 9 minutes of baking time. I just baked them a few minutes more until they were done. However, the next time I make these I will let them thaw as the box suggests. There are also instuctions to cook them in the microwave which SuperPretzel recommends over the oven.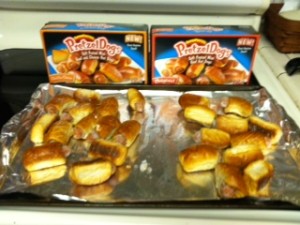 Your little ones will love these Pretzel Dogs, they are easy for small fingers to handle and fun to eat!
SuperPretzels Preztel Dogs can be found in your local stores freezer section.
Faith and Family Reviews received the following product in exchange for writing a review. While we consider it a privilege to receive free products to review, our reviews are our honest opinion and thoughts of the product
Share and Enjoy