I don't know about you but I enjoy a little color and design in my life.  Christian Inspirations's iPad and Kindle Cases are beautiful and inspirational.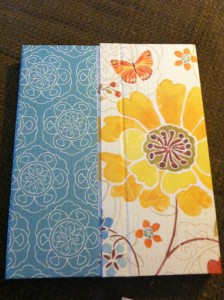 Here 's the iPad Case in Spice Bouquet has a magnetic closure.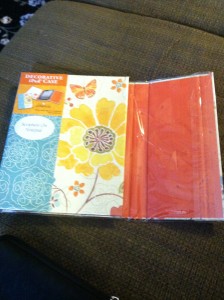 Flip open the flower side and the pattern continues on the inside.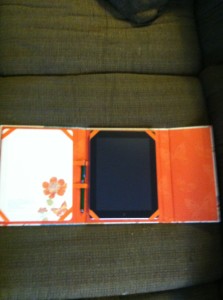 Then again to reveal the entire case. Perfect for on the go!  A beautiful note pad and pen are inside.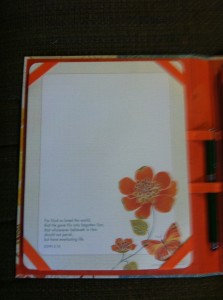 Here is the notepad with an inspirational note (Spice Bouquet is from John 3:16)
There are 4 elastic holders in each corner to hold your iPad securely in place.  Christian Inspirations Cases get even better! They not only lay flat, you can prop them up to watch a movie on your iPad.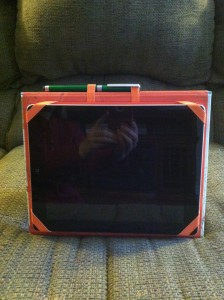 Here it is full standing and the next photo will show it at a lower angle.
These angles are great for when you don't have a desk.
Case Sizes are –
iPad –  10 3/8″ x 8 3/8″ x1 1/4″
Kindle – 7.5″ x 5.75″ x 1″
In addition to Spice Bouquet there are 5 more designs to choose from.
Marche De Fleurs, Boutique De Luxe, Birds on a Wire, Peacock Fantasy, & The Librarian.
You can find these beautiful cases for your iPad and Kindle on tabletcovershop.com or Amazon.
I had one of those black cases for my IPad, not anymore! I love the vibrant orange color of the Spice Bouquet.  I take my iPad with me to a lot of places, having a pen and paper close by is a super plus. I'm no longer digging in my purse for a tiny ripped up piece of paper and a pen. It's all right there.
Looking for a gift? Mother's Day is coming!
Faith and Family Reviews received the following product in exchange for
writing a review. While we consider it a privilege to receive free products to
review, our reviews are our honest opinion and thoughts of the product
Share and Enjoy