RSV (Respiratory Syncytial Virus) is a very scary thing for new parents…or any parents for that matter. Premature infants are at greatest risk! My first child was a month early and weighed in under 5 pounds. My sister had premature twins that were only 3 pounds each at birth. We both had our scares with RSV…but were very fortunate not to contract the virus.
The treat of RSV is one of the reasons I chose to stay home with my children and quit teaching in the traditional classroom. Daycare was very scary for many reasons to this protective mama…and RSV was one of those scary things!
When my daughter entered school she had pneumonia 3 times in kindergarten and I cannot help but think to imagine what she could have picked up had she been in a daycare setting.
We have had a few friends who have had to deal with this disease and it can be devastating to a family. But remember since almost 100% of babies will contract RSV…we may have had it and not even known it!
In fact the fact that my daughter had pneumonia 3 times in kindergarten could partially be because of the RSV virus. Luckily we were able to treat or and not have any further complications. However, sometimes if not treated or prevented RSV can be deadly.
I have 3 children and the only one who ever showed signs of RSV or its negative effects (pneumonia) was my oldest daughter. She was a preemie and I took all of the precautions of dealing with RSV and other sicknesses she could contract. I mean she had no other siblings, I did not work (so no daycare), we limited visitors to the house, we practice good hygiene and hand washing….yet somehow we still had our bout with illness.
My other 2 children were always relatively healthy and never showed signs of illness aside from the common cold. Even when having school age siblings…did I do anything different? NO, in fact I was probably more "loose" with the next two …taking them out more often, etc. But they STILL might have had the disease and been carriers and I would never know it.
PLEASE take the time to educate your self on RSV as it could have long term and devastating effects on your family or others with whom you come in contact.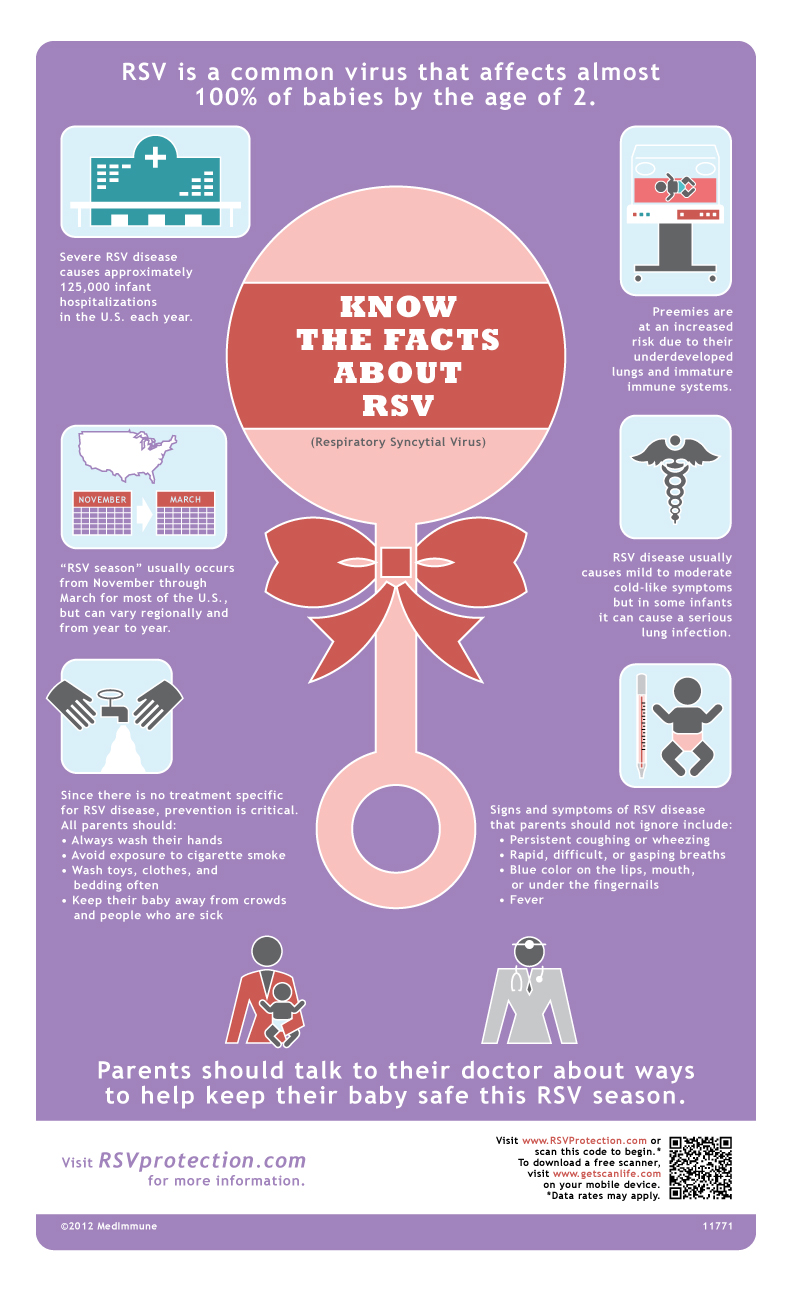 Please read the information below to learn more about the threat of RSV
The Threat of RSV in Child Care and School Settings
It is estimated that 82% of U.S. children aged six weeks to six years old, spend some amount of time in child care. Whether it's five or 50 hours a week, the risks of spending time in a daycare or pre-school setting are the same — increased exposure to contagious germs and viruses.
Children's inborn behavioral habits such as a need for close interpersonal
contact and lack of good personal hygiene, combined with an environment that promotes and rewards sharing, make daycare settings an environment for infection spreading. Because their immune systems are not yet fully developed, this is especially worrisome for very pre-term babies in daycare, or with school-aged siblings who bring germs into the home.
Premature infants are very susceptible to infection in the early weeks of their lives, so contracting something as small as the common cold can present danger. Respiratory syncytial virus, or RSV, is a common, seasonal virus that affects two-thirds of all infants by age one and almost 100% of babies by age two, because it's highly contagious. RSV can live on surfaces (doorknobs, countertops, toys, bedding) for several hours and is often spread through touching, hugging and kissing.
Daycare increases this risk of RSV spreading as children are constantly sharing toys, tables and high chairs as well as eating and napping in close quarters.
RSV typically causes mild to moderate cold-like symptoms, but in some babies it results in a serious respiratory infection.
Those most at risk for severe RSV include premature infants, as their lungs aren't fully developed and they have fewer infection-fighting antibodies than full-term babies.
The RSV season typically runs from November through March, so during the winter months parents should be especially
careful to watch for signs of RSV.
Below are symptoms of severe RSV infection that require immediate medical care:
· Coughing or wheezing that does not stop
· Fast or troubled breathing
· Spread-out nostrils and/or a caved-in chest when trying to breathe
· Bluish color around the mouth or fingernails
· Fever (especially if it is over 100.4°F in infants under 3 months of age)
If a child has milder symptoms of RSV, the virus will likely run its course without any cause for parental alarm. It is important; however, for these parents to remember that even a mild case of RSV can be spread to other children, some of whom may be at high-risk for developing a serious infection from the virus. For this reason, it's always best to keep a sick child home when possible, to prevent the spread of germs and viruses.
Once contracted, there is no treatment for RSV, so working together to prevent the risk of RSV is critical. All parents should take steps to prevent the spread of the virus, including always washing their hands and child's hands, and asking others to do the same. It's also important to remember to keep toys, clothes, blankets, and sheets clean and avoid crowds and other sick children during RSV season.
Prevention is especially important for babies at increased risk of becoming ill from RSV. Parents of preemies should be informed of the dangers of RSV, as well as the risks that certain child care settings can present. If possible, parents of highrisk babies may want to consider alternate options, such as nannies or in-home daycare centers, where exposure to dangerous germs can be minimized. Regardless of child care settings, it's important for parents who believe their child may be at high-risk for RSV to speak with a doctor about prevention.
A few facts about RSV that all parents, caregivers and loved ones should know:
· Almost every baby will contract RSV by age 2, but only 1/3 of moms say they've heard of the virus.
· Serious RSV infection is the leading cause of infant hospitalization, responsible for more than 125,000
hospitalizations and up to 500 infant deaths each year.
· RSV occurs in epidemics each fall through spring. The CDC has defined "RSV season" as beginning in November
and lasting through March for most parts of North America.
· Certain babies are at an increased risk of developing serious RSV infection, so it's important to speak with a
pediatrician to determine if a baby may be at high risk for RSV, and discuss preventive measures.
· Symptoms of serious RSV infection include: persistent coughing or wheezing; rapid, difficult, or gasping breaths;
blue color on the lips, mouth, or under the fingernails; high fever; extreme fatigue; and difficulty feeding. Parents
should contact a medical professional immediately upon signs of these symptoms.
· There is no treatment for RSV, so it's important for parents to take preventive steps to help protect their child (wash
hands, toys, bedding frequently; avoid crowds and cigarette smoke).
Visit www.RSVProtection.com and follow #RSVProtection on Twitter for more information.
"I wrote this review while participating in a campaign for Mom Central Consulting on behalf of MedImmune and I received a promotional item to thank me for my participation."
Share and Enjoy