A CHORE NO MORE!
THE TOY DOZER MAKES TOY CLEAN UP FAST, EASY, AND FUN FOR EVERYONE!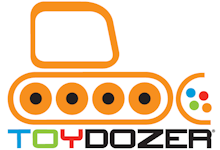 January is National Organization month so what a better way to celebrate but with a product to clean up toys! Our house is overloaded with toys…especially with Christmas just past…we are busting at the seems! This product gives an innovative way to clean up toys with a "scoop" of the wrist! More importantly this is a toy that teaches…by involving children in clean up time, children learn the importance of responsibility. I know that responsibility is a value I am trying to instill in my children…so I am very happy that a "toy" can assist in that venue!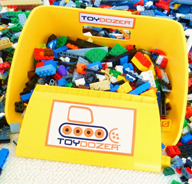 The Toy Dozer is a great product that helps parents and kids clean up all of the toys that we can find overwhelming and exhausting to clean up…just a little more fun! Check out the product in use in the video below:
What exactly is the Toy Dozer? It is a simple yet GENIUS invention! The product is similar to a dustpan … but instead of a broom to "sweep" in messes you have a handy little scooper. The one thing I like about this is the "scooper" Velcro's inside the dustbin portion of the dozer. This is great… since I would hate to loose part of the product. Do you know how many times I have just wanted to use a broom to sweep up the toys my children have strewn all over the floor? But really…who want s to use an icky broom to clean up messes? The Toy Dozer created a clean way to get at those big toy messes!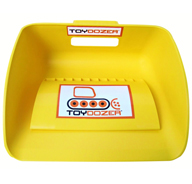 My children are HUGE Lego fans! My son builds legos almost everyday…and my girls just got into the Lego friends series of Legos so our house was constantly strewn with the little parts. I was constantly picking up pieces and putting them on building plates or in Baggies. WELL… with the toy dozer pick up just got easier. I have to say that this is a great invention for these little pieces. All I have to do is use the scooper and sweep them all into the receptacle container and I easily have cleaned up a huge mess and then can bag the Legos as needed in seconds! This is a time saver for moms and dads! The kids love the product too! Usually the fuss about having to pick up ALL the Legos…but now the chore is fun and fast!
I do have to say that I also think this product has worked will in our house for beading crafts! My daughters received some bead kids for Christmas and after we were all done with the craft we were able to use the Toy Dozer to effectively clean up the beads in one swoop! I think this will be a great addition to craft days in our house as well…. Since it picks up those little pieces that I am forever using a plate or piece of paper to clean up messes.
We have used this product so many different ways… I do not think you will be disappointed. I have to honestly say that at first I thought it would be a Lego picker-upper only…but we have used it for many other things, including Barbie accessory, crayon, and Doll clothes clean up. I hate to say this but my girls' room often looks like a tornado went through it (I know I am not alone) …but the Toy Dozer has sincerely made clean up easier!
Overall, I am thrilled with this product! It has made a difference in our "Lego" world! What a blessing to have been able to review this product!
The Toy Dozer comes in a variety of colors: Blue, Red, Purple, and Yellow.
Toy Dozer is also MADE IN THE USA!
To find more out about the Toy Dozer please visit: http://www.toydozer.com/
Faith and Family Reviews received the following product in exchange for writing a review. While we consider it a privilege to receive free products to review, our reviews are our honest opinion and thoughts of the product.
Share and Enjoy