The other day I mentioned Dollywood's Wild Eagle, but there is so much more to Dollywood than just roller coasters. Though Dollywood has several of them.
I Heart Dollywood!
I loved Dollywood and if I am honest everything I saw and experienced made me wish my family was there with me to experience it too. It was like that with every event we attended last weekend. That's how family-friendly all of the attractions in Pigeon Forge were and to me Dollywood had an old-time feel to it – from the coal steam engine, horse wagon shop and even a metal forge/black smith's shop for signs etc. All things that are right up my alley.

Dollywood's Grist Mill – Photo courtesy of Kim at Brandfluential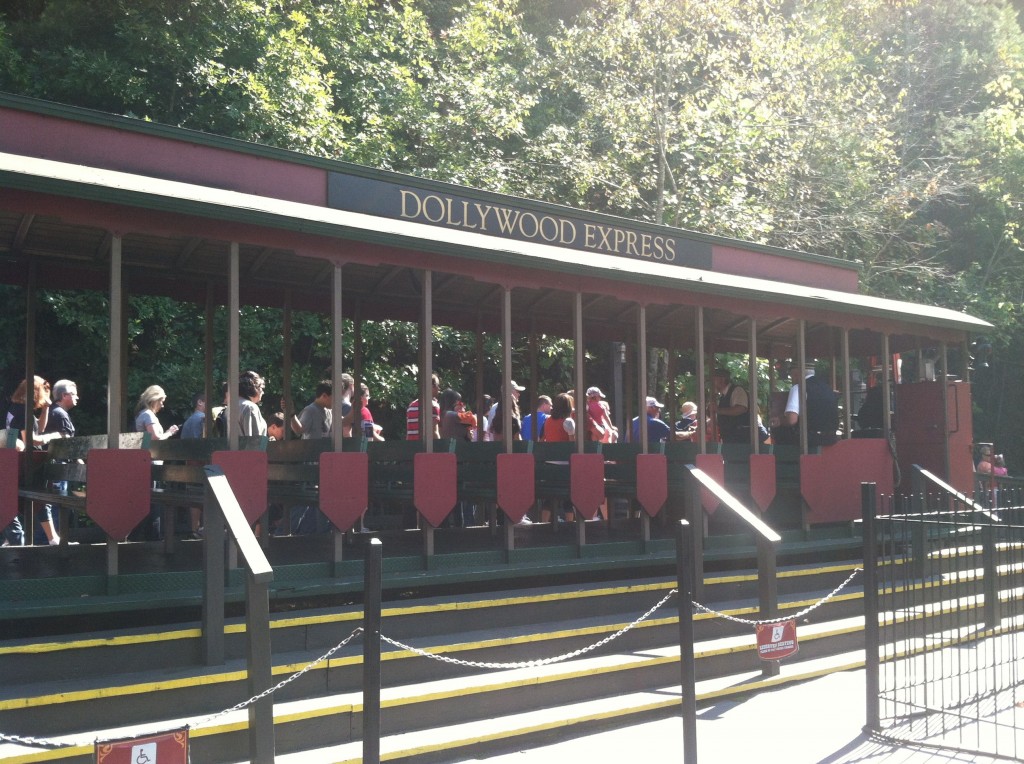 I rode the Dollywood train through the foothills of the Smoky Mountains with Jenn from The Rebel Chick and Amy from Grinning Cheek to Cheek
Brandcation Bloggers at Dollywood
34 bloggers at Dollywood.

Photo courtesy of Kim at Brandfluential
Dollywood has plenty of shops, restaurants, a museum, crafts, quilt shops, roller coasters and other rides to keep the whole family busy for the day (last Friday – can't believe a week has gone by already!) There was plenty of things for people of all ages, including family pets. This month is Gospel and Harvest Festival and the day we were there we saw a line up of people and the majority were senior citizens. A group of bloggers took in a show and said it was awesome as they learned about the history of music.

Doggywood
Doggywood is a place to leave pets while visitors enjoy Dollywood for the day.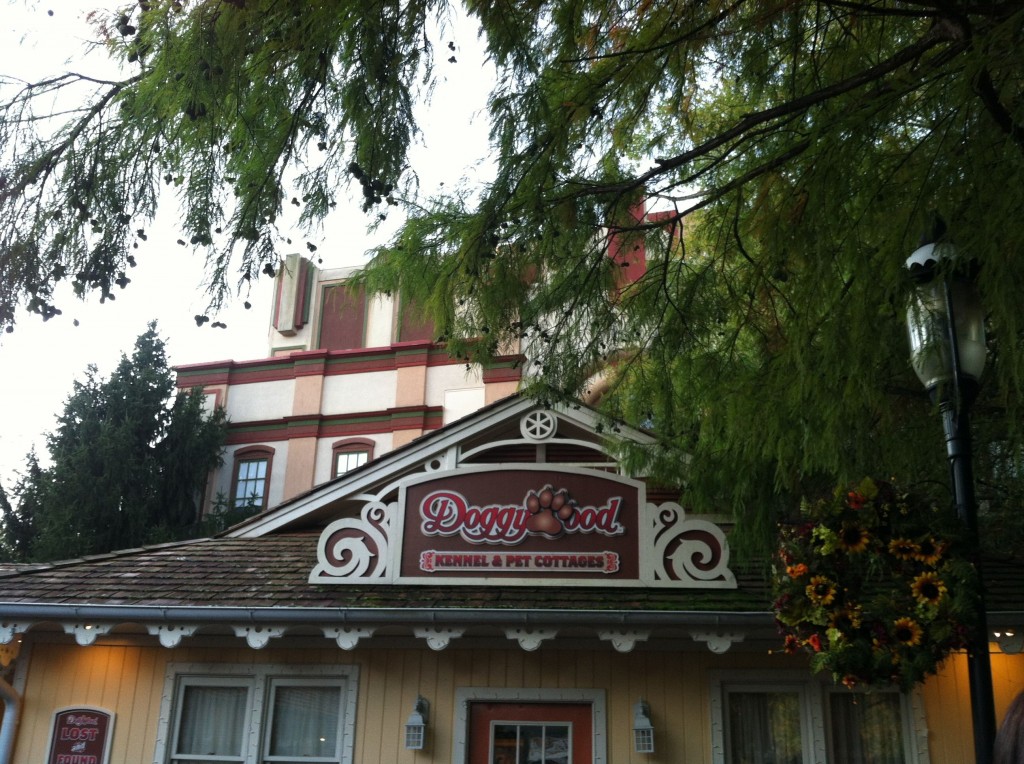 The great thing about Dollywood is you can stay and play as they have their own log cabins for accommodations. Dollywood even has a water park called Dolly Splash. The parks and cabins are close together eliminating long drives going back and forth between the three of them.
If we were to go to Dollywood as a family I would want to take more than just a day to visit as I think it would take at least a couple of days to go through everything.
Dollywood Ready for Fall


Photo courtesy of Kim at Brandfluential
The park is very well shaded for the hot days of summer. Dollywood even has its own special Dollywood Christmas.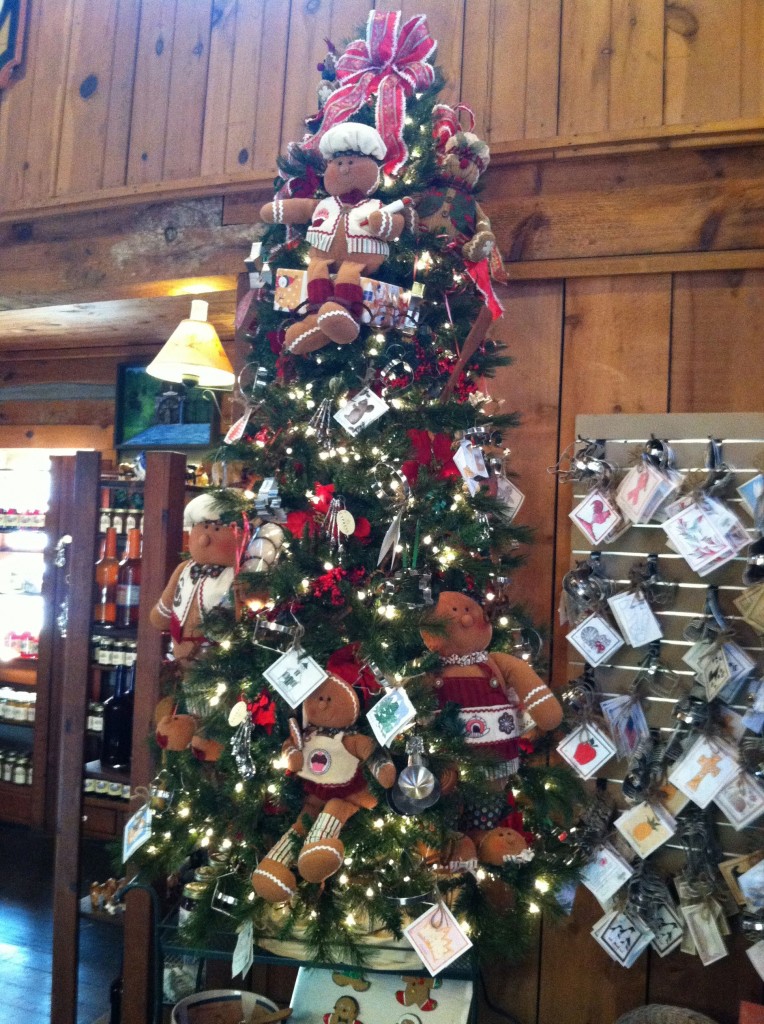 One of the employees at Dollywood said when he left work this tree was not there…we joked that the elves had been at work.

Gluten Free Brownie

Photo courtesy of Kim at Brandfluential
The neat thing about Dollywood's restaurants is they have a gluten-free menu and a whole program geared towards allergy education for select kitchen employees, which even includes certification. This is very unique and important to families suffering from allergies.
The rest of their eateries – a bakery, a sweet shop and more – provide tasty lots of food. I had to get a couple of photos of my husband's favorite desserts but neglected to get a photo of our lunch at Granny Ogle's Ham N' Beans.
Dolly Parton
It was very impressive to learn Dolly Parton is very involved with her parks and attends specially planned events centered around her visit to Pigeon Forge. The fact is we just missed her most recent visit. Boo hoo.
One last thing, we truly experienced southern hospitality and friendliness from Dollywood employees.
To learn more connect with Dollywood online at their website, Twitter and Facebook.

Companies may have provided media rate or media tickets to assist in facilitation of this article. Experiences are all real and all opinions are my own.
Share and Enjoy