I haven't been to a theme park in a very long time. I went on a virtual ride of Dollywood's Wild Eagle, America's first winged roller coaster, before I left for Brandcation and I think I freaked myself out a little. Try it and you'll see what I mean! All you adventure seekers will love it, I'm sure!
Dollywood's Wild Eagle roller coaster was a highlight for me as I went on it three times, even though in all the photos I look terrified…and I was. I haven't been on a roller coaster since I was 14, but the fact that I attempted something different and something that had to do with heights was huge for me since I am afraid of high places. I am a play it safe, non-adventurous kind of gal.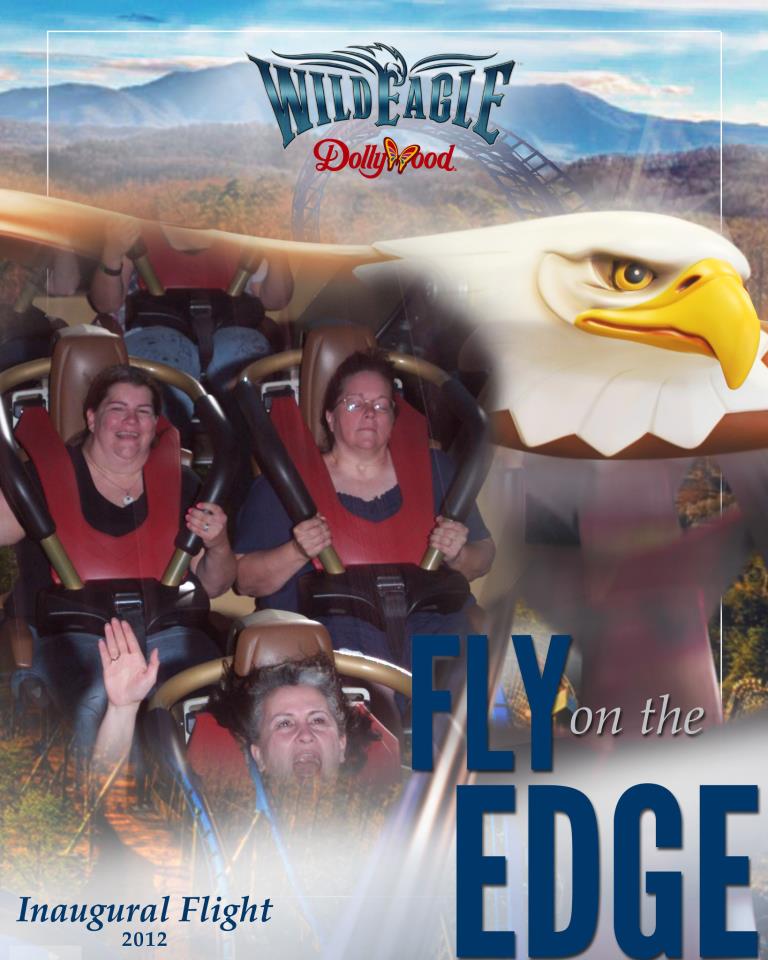 Photo courtesy of Dollywood and Tanya Gordon of Mommy Goggles.
The first ride I had my eyes closed except for the initial climb. The second time I opened my eyes a bit and during the third ride I only had my eyes closed for the huge dip and loopdy-loos. There's something about being upside down that gets to me. It was terrifying and thrilling at the same time. Though I must say I felt very safe strapped in the seats seats. They felt very secure and Dollywood staff made sure we were securely fastened, which I really appreciated. I worried about my glasses falling off because they shifted a bit but they stayed on.

Photo compliments of Kim @ What's That Smell
Oh, Kim actually had a photo of me smiling as we came in from our ride. It's a bit blurry but you can see Paula, me, Mary Ann and Maria:

Photo compliments of Kim @ What's That Smell
Dolly's Wild Eagle opened in March of this year and has already hit 1 million rides according to a staff member at the photo desk. Impressive, eh? Dollywood Splash will be opening their first water coaster in spring of 2013 – little insider info.

Wild Eagle Compared to Other Roller Coasters
Joy from Joyful Musings went on three roller coasters at Dollywood and we asked her to give us the comparison break down and here's what she said:
Dollywood's Wild Eagle was the smoothest ride.
Mystery Mine was the scariest.
The third was Tennessee Tornado was the fastest.

Companies may have provided media rate or media tickets to assist in facilitation of this article. Experiences are all real and all opinions are my own.
Share and Enjoy