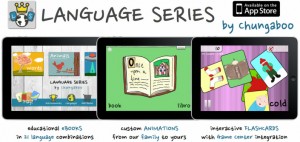 I love my apps!  My daughter and I recently got this new app from Chungaboo Language Series (formally Lingo Slingo).  The first selection is "Words" – the app will say bear and then toss about 5 cards with different pictures and your child needs to select the correct picture.  If they select the wrong picture you get an "X" at the top of the screen.  This app has a choice of 6 different languages (Chinese, English, French, German, Italian, Spanish).  In addition, there are achievements – in this section there is "All-Time Scoring", Beginner's Badge by Language, and Maestro Badge by Language (50 card streak). From this app you can also purchase – Animals, Travel, and coming soon is Color Door. They have teasers to let you try before you spend the money.
This is a great app for your preschoolers!  My daughter will be 4 next month and really enjoys it.  The Chungaboo app not only helps her connect words to pictures, but it helps with her motor skills by the cards moving.  The music is not bad for parents either.  This is a wonderful learning game for road trips!  Check it out in your apps store!  Sorry, I didn't see anything for you android users.
Faith and Family Reviews received the following product in exchange for writing a review. While we consider it a privilege to receive free products to review, our reviews are our honest opinion and thoughts of the product.
Share and Enjoy