"Save when you want, where you want." Great new motto from a great new app!
Save Money! Don't pay full price! Download Retail Me Not for your apple product.  It's Free! Don't have an apple product? Head to their website Retail Me Not.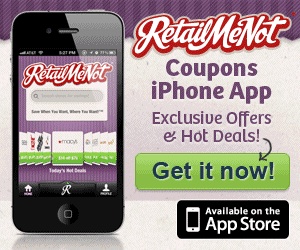 I use Retail Me Not's website all the time.  So, I was super excited when the new App came out!  Retail Me Not has over 1,600 redeemable coupons with thousands of merchants.  With the Retail Me Not app you can save online or in the store! "Hot Deals" from popular stores are updated daily.

Explore the online and in-store coupons from thousands of merchants or the drag and drop functions for easy online shopping. Don't need your coupon now? Save it for later. Or check out coupons from popular stores and categories.
Here's some important links!
Go and download this useful and money saving app! IT'S FREE!
Let me know if you have this free app and what you think of it!
Disclosure – Posting this makes me eligible for a drawing all my opinions are my own. Faith and Family Reviews is a member of One2One Network.

Share and Enjoy